The Institute of Corporate Governance of Uganda (ICGU) in partnership with Grant Thornton, Uganda (GT) has organised the second ICGU Corporate Governance Awards 2022.
The awards are scheduled to take place on Wednesday, September 28, 2022, at Mestil hotel, Nsambya.
While addressing the press at Grant Thornton building along Lugogo Bypass on Monday, Geoffrey Kihuguru, the Chairman Awards and Recognition Committee, said this year's theme is "Corporate Governance; Recognising Adherence to Best Practices."
According to him, during Covid-19, a number of organisational practices changed, new management discoveries like virtual operations, environmental, social and governance aspects became more pronounced, new investment opportunities emerged as well as new risks.
"Government is calling for 70% of the national budget to be funded locally, this means we need to have a more sustainable and responsive private sector," said Kihuguru who doubles as the Vice President of ICGU and Chairman of CitiBank Uganda.
He said this can't be achieved without the tenets of corporate governance.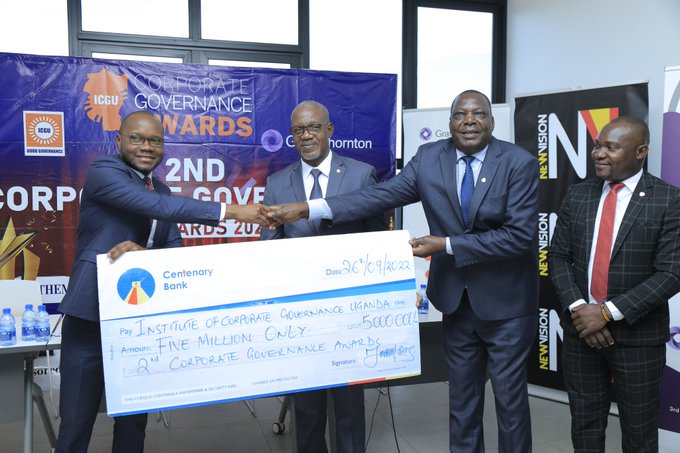 He defined Corporate Governance as simply an understanding of how management interacts with the board guided by internally acceptable principles and practices for the benefit of profit maximization to shareholders.
He said the corporate governance awards present an opportunity for different organizations to be assessed on their corporate governance practices.
"Corporate governance assessment is simply a hygiene check in operations i.e. accountability, transparency, integrity, responsivity, compliance, board independence, board diversity, ESG strategy and the board oversight role," he noted.
The scores in these assessments will inform the winners of corporate governance awards in the following categories; public sector, NGOs, SMEs, larger private sector, banks and insurance.
He said ICGU will compile, present and publish a corporate governance sector by sector report- "The State of Corporate Governance in Uganda".
"ICGU leadership understands that the best way to help organisations, government and the economy at large is to recognise organisations for adherence to best corporate governance practices," he added.
Speaking during the launch of the awards, Anil Patel, the Managing Partner Grant Thornton, said they are the pioneers in identifying this particular award.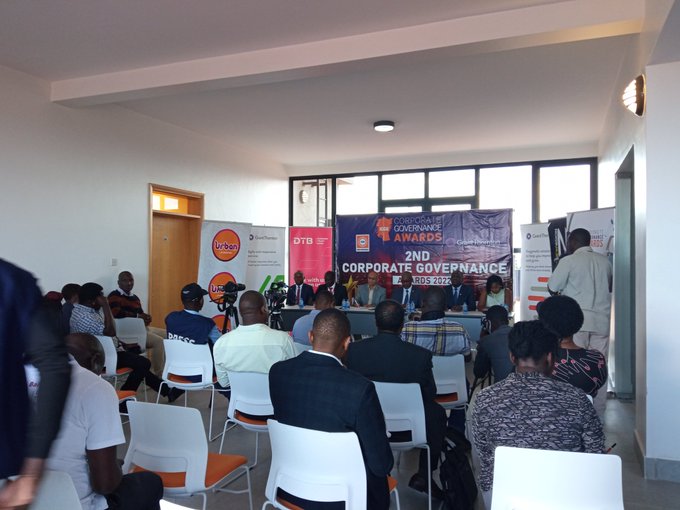 "As an accounting firm, we have the knowledge of the current state of affairs of businesses," he noted.
He added: "Organisations with good governance are growing sustainably. To be relevant, we mist support good governance in the country."
Dison B Okumu, the Chief Executive Officer of the Institute of Corporate Governance of Uganda, said if there is no sustainability, there is what he termed "corporate failure".
"We see banks closing because somewhere they didn't follow corporate governance practices," Okumu noted.
He said supermarkets like Uchumi, Shoprite and Nakumatt came and went because they lacked somewhere in terms of corporate governance practices.
"Employees lost their jobs when they closed and suppliers suffered because someone in management messed up."
According to Okumu, corporate failures lead to crime because when some people lose their jobs they resort to crime, and the entire economy in the end affected.
He said ICGU is not a regulator but an advocate of corporate governance. "We help enterprises survive in hard times to keep the economy growing. Statistics show that 60-70% of businesses registered do not live up to their second birthday because they don't follow corporate governance practices."
The awards are sponsored by Centenary Bank, Diamond Trust Bank, Vision Group, and Grant Thornton, Kansai Plascon, NSSF, Bank of Uganda, Insurance Regulatory Authority and Uganda Development Bank.