Last month, Ugandan artist and self-proclaimed Omunene Bebe Cool and wife Zuena celebrated their 14-year civil marriage. In a brief telephone interview with Zuena, she terms the 14-year marriage as a classroom where she has learnt so many lessons. She adds that through the 14 years, she has learnt to be patient with her husband knowing her position as a wife to a celebrity.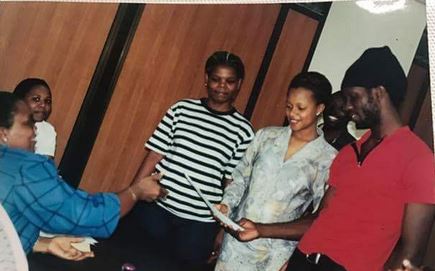 " It feels good to have spent part of 14 years with a person I love most on this planet. It has been a classroom where I have learnt so many lessons. I have also learnt to be patient with him. Because I know he is a famous person who is always in the public eye to be judged. I have personally supported him all through" Zuena says.
The two tied the note in a civil marriage on September 22nd 2003, fourteen years ago at Crane Chambers.
"Before the kids, was us….Musa & Zuena.12th September 2003 was the day we said "I do" at Crane Chambers in a civil wedding. Last month on 22nd we celebrated 14 years in marriage and we couldn't hide our excitement," said Zuena.
Zuena and Bebe Cool have four children together and are expecting their fifth child. All the children were born from in the US. Bebe cool maintained the habit of flying his wife to the US just to give birth.
Zuena describes his man a great creature she will always love, one who has been there for her and guided her through thick and thin.