General David Sejusa has revealed that he is proud to have belonged to the National Resistance Army and Uganda Peoples' Defence Forces (UPDF), which have made incredible strides.
"I am proud to belong to NRA/UPDF, which has made incredible strides. I thank the people of Uganda from all regions for their
sacrifices," Sejusa said.
He made the remarks at a retirement ceremony for 48 General officers of the UPDF at State House, Entebbe.
These were meant to be 49 before the death of Gen Elly Tumwine who breathed his last a few days ago at the age of 68.
The ceremony was presided over by President Yoweri Kaguta Museveni, the Commander in Chief of the armed forces.
"We all know there was a phase in our struggle when our civilian population was the vanguard. They were our eyes, the ears, our protectors. They fed us and this phase took a bigger part of 1981. They gathered intelligence, they carried out reconnaissance missions for us to acquire small arms and so on. If we did not have the population on our side, then there would be no NRA/UPDF and certainly NRM," Gen Sejusa said.
He added that it's not easy to keep a country peaceful for 40 years.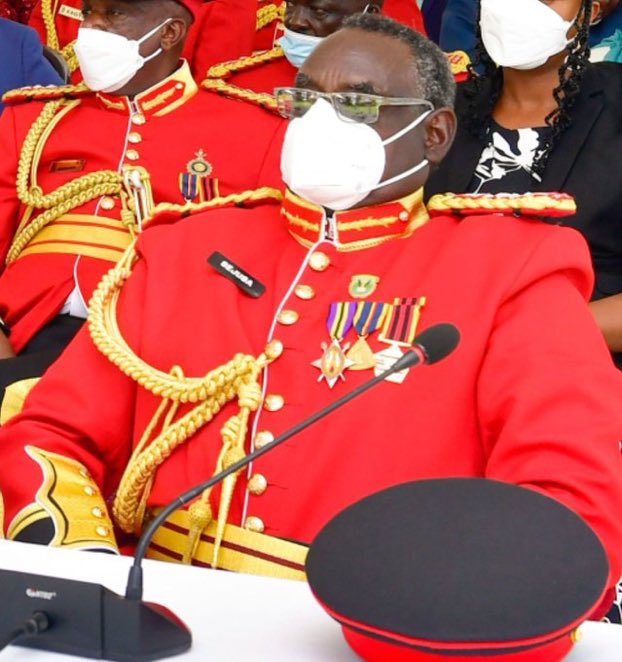 He noted that although much has been accomplished, a lot is yet to be achieved to consolidate the victories and the mission to liberate Africa.
"Therefore, continue training, take advantage of the opportunities being provided, make sure that you deepen your ideological horizons but above all, love your nation and honour the people of Uganda always. They are special people, for there's no greater honour than serving the people," Gen Sejusa added.
As the most senior retiring officer, General Sejusa paid tribute to the President for providing leadership during the struggle, leadership of the army, and the people of Uganda without which there wouldn't be peace.
He also saluted the President for the opportunity to serve the people of Uganda and for the victories and achievements registered.
"We have shared a lot and we have served Uganda and I'm sure Uganda will prosper," he added.
The Chief of Defence Forces (CDF), Gen Wilson Mbasu Mbadi thanked the President for allowing the retiring officers to serve in various capacities and asked them to continue using their experience wherever they will go.
Among the notable retirees most of whom are part of the 1986 National Resistance Army (NRA) liberation group that brought the current government into power are RO 00031 Gen David Sejusa who is a former Coordinator of Intelligence Services, and Lt Gen Andrew Gutti, formerly Chairman of the General Court Martial.
Others include RO 00087 Lt. Gen John Mugume, RO 00038 Maj Gen Steven Kashaka, RO 00073 Maj. Gen Joram Kakaari Tumwine, RO 00122 Maj Gen Manon Katirima Phinehas, RO 00167 Maj. Gen Elly Kayanja, RO 00266 Maj. Gen Geoffrey Balaba Muheesi and Uganda's most decorated female military officer, RO 00217 Lt Gen Proscovia Nalweyiso who is currently serving as Special Presidential Advisor on Defence and Security.
Over the years, Lt Gen Nalweyiso has served in several command and staff appointments including commanding a female wing of the NRA in 1986.
The colourful ceremony was attended by, among others, the Minister of State for Defence, Hon. Jacob Oboth Oboth, the Minister of State for Veteran Affairs, Hon. Oleru Huda and friends and families of the retired senior officers.