Salaam Charity has donated over Shs212 million towards the construction of the historic Masjid Mbogo in Kawempe division, Kampala.
The donation was delivered by Hajji Karim Kariisa, the Chief Executive Officer (CEO) of Salam Charity, to the chairman Masjid Mbogo construction, Hajji Hasib Takuba Kabuye, shortly after Juma prayers on Friday.
Kariisa noted that the money was collected during the recently concluded holy month of Ramadan.
"Today, we bring here this dummy Cheque as part of the contribution to the construction of Masjid Mbogo. This is part of the money collected by Ugandans during the month of Ramadan. Last year, we brought over Shs500m and prior to that, we brought over Shs100m in 2014. Now, we are here to bring over Shs212m. This money is already on the account," he said.
He encouraged Ugandans to continue giving using the little they have, saying this can create a difference in someone's life.
"We encourage Ugandans to keep giving, we are capable of doing anything. We can use the little or bigger resources we have to change a life. The little you contribute is what has brought the change to our communities."
He added: "What we have seen is that we have the capacity to move different things. I can assure you; Ugandans are capable of mobilizing resources. I always tell my community that Shs1000 may not help you here in Kampala but that Shs1000 can change this country. If one million people gave me Shs1000 each, that is a billion shillings. That is how we can change by coming together and I believe we shall do bigger things together."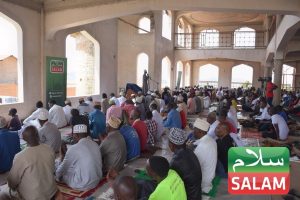 He noted that as a foundation, they have many other projects scattered all over the country running at the same time and all of these need support to succeed.
Masjid Mbogo is one of the oldest mosque sin Uganda with a very big landmark in the Islamic faith.
It was constructed in 1903 at Kawempe Muslim Primary School. However, it was dilapidated which prompted its management to start construction of a new one.
Hajji Hasib Takuba Kabuye, the chairman of the construction committee, noted that they have so far spent over a billion on the mosque.
He called upon those who are willing to donate to the cause.