High Court has dismissed a bail application filed by opposition figure Dr Kizza Besigye and former Rubaga South Constituency Parliamentary candidate, Samuel Lubega Mukaku.
They were challenging the ruling of Buganda Road Court Grade Magistrate, Asuman Muhumuza, for denying them bail on 17th June 2022.
High Court Judge Justice Asiimwe Tadeo on Thursday advised the two to go back to the Chief Magistrate at Buganda Road Court.
Besigye and Mukaku were arrested this month from downtown Kampala for protesting against the skyrocketing cost of living.
They were charged with inciting violence and remanded to Luzira prison.
Besigye presented his partner and UNAIDS executive director, Winnie Byanyima, Kampala Deputy Mayor, Doreen Nyanjura, and former Rukungiri Municipality MP, Roland Mugume, as some of his sureties for the bail application.
Buikwe South MP, Michael Lulume Bayigga, and former Mbale District Woman MP aspirant, Margaret Wokuri, stood surety for Mukaku.
According to Justice Asiimwe, the application brought before him was "premature".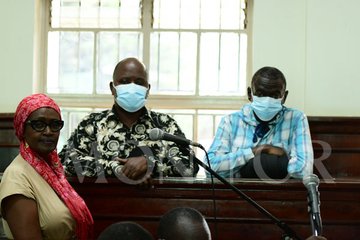 This had been raised by Isaiah Wanamama, a representative of the Director of Public Prosecutions, who said the pair had failed to "exhaust the magistrate structures as they should have first gone to the Chief Magistrate where the main criminal matter is pending".
In their bail application, Besigye and Mukaku said the trial magistrate "wrongfully denied them bail based on a track record of unprosecuted frivolous criminal cases".
Justice Asiimwe advised them to apply before the Magistrates Court.
The application hearing was attended by; Forum for Democratic Change (FDC) President Eng. Patrick Oboi Amuriat, Eng.Winnie Byanyima, the Executive Director of UNAIDS and a partner to Dr Kizza Besigye, Hon. Ssemujju Nganda Ibrahim, Deputy Lord Mayor Nyanjura Doreen, Hon. Francis Mwijukye and other leaders.