Veteran Journalist, Andrew Mwenda has advised young people to use Patriotism as a tool to develop Uganda.
Mwenda revealed that Uganda as a country cannot rely on foreign investors to transform the society from low value to high value.
He argued that Uganda will need the spirit of patriotism if it is to develop, saying only Ugandans will transform Uganda not foreigners.
"Only Ugandans will transform this country, foreigners will not, unless a country is patriotic, it cannot develop," Mwenda said.
Mwenda made the remarks during the launch of the Uganda Patriotism Club at the Serena Conference center in Kampala under the theme: "Harnessing Patriotism for Development"
Mwenda who represented the chief guest, Gen Salim Saleh, said that Uganda needs to add value to its products and Ugandans must own their economy.
"Development is the long term process of growth, no country can develop unless its economy is growing and no country can sustain economic growth unless it undergoes technological change," He said.
The Acting Deputy Director, Chief Political Commiserate, Assistant Commissioner of Police (ACP) Hillary Kulaigye, noted that a country will develop if the citizens are patriotic.
"If those in the informal sector and those in the formal sector were patriotic, and doing the right thing, this country would be far in terms of development. Look at the money we lose in corruption, if you are patriotic, do you think you can steal government money," Kulaigye asked.
Paul Taremwa, the acting chairperson of the Patriotism club, said as a group, they want to make Uganda a better place to live where young people achieve positions of power, exist and support all Ugandans.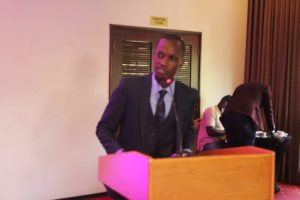 Taremwa outlined their club road map which include, mass sensitization on Covid-19 vaccination programs to ensure most of the population is Vaccinated to allow the economy to blossom.
"We shall focus on sensitization on combating GBV that has been hindering human rights of women and children especially during this Covid-19 period, Plant a tree and environment conservation campaign to combat the pressing issue of climate change in Uganda and the world, and run sensitizations drives through all mediums to completely eradicate the problem of corruption in all sectors in our nation," Taremwa said.