The Ugandan government with co-financing from the World Bank, have invested $178.2m (sh642b) in Uganda's forests and protected areas.
The investment is a loan amounting to $78.2m (sh282b) and a grant $70m (sh252b), totaling to $148.2m (sh534b). Government is investing $30m (sh108b).
Launched at the National Forestry Authority (NFA) offices in Kampala, the intervention seeks to address the increased vulnerability of economic productivity, biodiversity and livelihood to climate change effects due to declining forest ecosystem goods and services.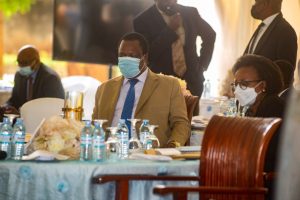 The initiative, will also build on opportunities provided by forests and protected areas to mitigate climate change effects and build on resilience of livelihood and the economy.
The project started in August 2021, is code-named: "Investing in forests and protected areas for climate-smart development". This will be implemented for six years.
The Minister of Water and Environment, Sam Cheptoris while officiating at the event on behalf of the Chief Guest. Vice President Jessica Alupo, said that the ministry is happy with the project because it restores the Pearl of Africa.
Cheptoris noted that the project seeks to contribute to the NRM Manifesto in sustaining natural economic systems.
"As a country we need to restore the forest cover to 24% by 2040. The project seeks to meet such aspirations. This project comes at a time when there is high demand for wood, need to revamp the tourism sector post Covid 19 because these forests are giving the country huge income, there is need to create jobs and employment for citizens of Uganda and youth. the NRM government has created a conducive environment for private investments and the private sector has improved the forest cover from 9 percent to percent," he said.
The Permanent Secretary ministry of Water, Alfred Okidi noted, "The IFPA-CD Project contributes to the Water and Environment sector through contributing towards forest protection, reforestation and afforestation".
The National Project Coordinator; Margaret Athieno Mwebesa stated thst the Project will support the Government agenda of increasing forest cover and slowing down the loss and degradation of the Nation's forests.
The World Bank Country Manager, Mukami Kariuki noted that the project is $178m and $78m for grant, 58m for host communities and refugees.
She noted that the Climate Change Action Plan elaborates the World Bank's commitment to supporting programs that have resilient and green growth at their forefronts including Uganda.