Government has confirmed that some Ugandans received double payment from the COVID19 relief funds for the vulnerable people in urban centres.
When government announced a second lockdown on June 18, a decision was taken to send Shs 100,000 to each of the identified 501,107 households belonging to the groups that depend on daily earnings in urban areas.
Indeed, the ministry of Finance released Shs 53.5 billion and on July 8, Prime Minister, Robinah Nabbanja officially launched the disbursement of the relief cash as promised.
However, amidst complaints of delays by the beneficiaries in receiving the money especially in the Kampala metropolitan area, allegations of some individuals receiving more than one time also popped up.
The claims were first raised by Kungu Al-mahadi Adam, a broadcast journalist. He mentioned on Facebook about a week ago that some callers in his talkshow on Radio 4 Uganda had alleged that they know of individuals (friends, relatives and neighbors) who had received Shs 100,000 two or three times.
"A couple of callers in my radio talkshow have alleged that some of their few friends who received the 'Nabbanja' token got it twice and others thrice. They say notifications came a few minutes after the other. Has anybody heard of the same?" Kungu posted on Facebook.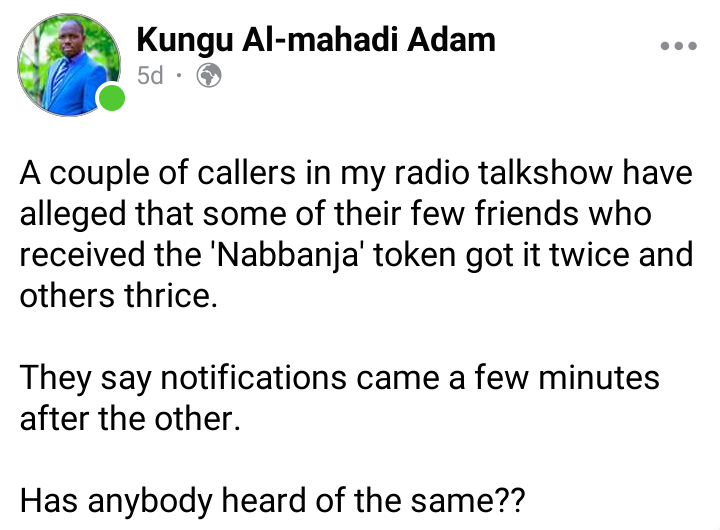 But what appeared then as unfounded allegations has turned out to be true, according to government.
The Minister of ICT and national guidance, Chris Baryomunsi has Friday confirmed that about 6,000 people received double payment. He was however quick to say that this happened in err.
"Yes, there was a human err in the bank where I think there was double clicking and people who are around 6,000 using Airtel had got double payment but it was immediately detected and the extra Shs 100,000 was recovered by the bank," Baryomunsi said.
"It is like when you are sending somebody mobile money, at times you may send and you think money hasn't gone and you send again especially if you have money on your account and somebody receives twice. Or if you are sending Shs 100,000 and you mistakenly add a zero and somebody received Shs 1,000,000"
"There was just a human err which has now been rectified and so, as of now, nobody has received double the money because the err was rectified as soon as it happened and then the extra money which had gone was recovered," Baryomunsi added.
While addressing Parliament on Wednesday, the Prime Minister, Nabbanja said that by 4pm on Tuesday, a total of 413, 504 beneficiary records had been submitted to the back and paid which represents 82.5% of the total beneficiaries.