Government has been urged to strengthen its enforcement on the ban of single use plastics.
Speaking at the launch of the Re-Think Plastic Campaign and the Earth Hour 2022, at Kiswa Primary School in Bugolobi Kampala, David Duli the World Wide Fund for Nature in Uganda, Country Director said that they recognize government's efforts to ban single use plastics. He however noted that more efforts to strengthen enforcement of the ban in Uganda are needed.
"We call for more efforts to strengthen the enforcement of the ban in Uganda. We have confidence that in partnership with all stakeholders, this campaign will go a long way in developing awareness and conviction among Ugandans and other global citizens to adopt more sustainable alternatives," he said.
Duli noted that to achieve the objective, stakeholders need to spread messages regarding the dangers of plastics.
"We also call upon the private sector to strengthen the process of recycling including turning plastics waste into other products that do not disrupt the environment," he said.
Duli said that the provision of alternatives will also be critical for adopting the desired change.
Adding, "The future belongs to the young people in this assembly today. We have a role to work very closely with them to attain a No plastic in nature future. Let us shape this future."
Speaking at the same event, the Minister for Works and Transport, General Edward Katumba Wamala who represented the Deputy Speaker, Anita Among at the event, noted that over reliance on plastics is a major environmental challenge, considering the pollution on environment and human health.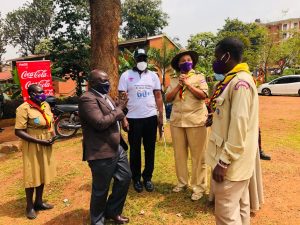 "The statistics about plastic pollution are alarming, indeed, it is estimated that a total of 500 billion plastic bags are used every year around the world, and that 13 million tons of plastic leak into the water bodies, including the plastic bags that we use and throw every day," he said.
He tasked all corporate companies and organizations to sign a 'pledge board' to reduce plastic waste and ensure a better and healthier Workplace environment.
"As Parliament, we are going to do our best to ensure that we have a legislation that will cause all businesses producing products in single use plastic are responsible for their plastic litter," Katumba nonoted.
Later at the event, Katumba and other stakeholders launched the Re-think Plastic campaign under the theme "re-think plastic pollution", a campaign which calls on all Ugandans to effect change in their daily lives to reduce the heavy burden of plastics on environment and human health.
Today, Uganda joined the rest of the world to demonstrate the country's commitment to curb the flow of plastic waste entering lakes, rivers, Oceans and the environment as a whole.
Uganda is part of the Great Lakes region with its largest freshwater ecosystem, Lake Victoria.
The water body, shared with Kenya and Tanzania, is the source of the iconic River Nile that flows 6,695 kilometres before ending in the Mediterranean Sea.
For Uganda, this pollution takes the form of waste, such as plastics and fishing gear, and nutrients from agricultural run-off, degrading ecosystems services and threatening the health and livelihoods of its communities.
About 1 in 5 of the fish in Lake Victoria had ingested plastic, shows a recent study, while another research study has recorded micro plastics in surface waters in several sites on the lake.
Duli noted that plastics clog drainage systems which attracts billions of shillings to unclog annually; sums that would have otherwise been invested in other critical social services, spurred by the need to address dangers like carcinogenic exposure from ingesting micro plastics.
Earth Hour, organized by WWF, is a global grassroots movement uniting people to take action on environmental issues and protect the planet.
Engaging a massive mainstream community, Earth Hour was famously started as a lights out event in Sydney, Australia in 2007.
Since then, it has grown to engage millions of supporters in more than 185 countries and territories, inspiring individuals and organizations worldwide to take action for the environment, and driving major legislative changes by harnessing the power of the crowd.
As the movement grows, the one-hour lights out event continues to be the symbol of a broader commitment toward nature and our planet.
This year, the focus is on addressing the plastics challenge.
Duli said, "Therefore, As we launch the Re-think plastics campaign today, a build up to Earth hour 2022, it is critical to focus on the importance of all water bodies – lakes, rivers, wetlands, and ultimately, the ocean that suffer from the negative impacts of both plastic, and other types of pollution."
Earth Hour 2022 will take place on Saturday March 26, at 8:30 p.m. local time.
It is estimated that at least 600 tons of plastics are consumed every day in Uganda and most of them are disposed off irresponsibly. More than half of these are used and disposed of in and around Kampala and at least 51% of plastic garbage in the city is left uncollected.
Plastic waste is the major cause of clogging sewage systems in the city and partly explains the flooding in urban centres during rainy seasons. At the same time, the plastic waste ends up in wetlands, lakes and rivers.
A study conducted on Lake Victoria reveals that 20% of Nile Perch and Tilapia have microplastics in their gut.
This is a result of the decomposing and ever-increasing plastic litter in water bodies.
In 1972, on average a person used up to two kilograms of plastic, but today a person uses up to 43kg of plastic annually. Since the 1950s, at least 8.3 billion tons of plastic have been produced worldwide.
According to the United Nations, ingestion of plastic kills an estimated one million marine birds and 100,000 marine animals each year.
In most countries, only 9% of plastic is recycled. In Uganda less than 5% of plastic is recycled. Plastic can take over 450 years to decompose completely.