Vibez Nzuri – the experiential platform for drinks, meat and music – celebrated its third anniversary last Saturday at its home, Gazebo Grill in Najjera.
Sponsored by the official Enjoyments beer – Bell Lager – and Captain Morgan, the anniversary joined the December season of parties and celebrations with a wide variety of meat (nyama choma), beer buckets and cocktails.
Loosely translated as "good vibes", Vibez Nzuri, is a collective that brings together artists, creatives, and young talent for a good time and to help each other grow over great music and a wide variety of meat (nyama choma).
The event kicked off at 5:00 pm with an Amapiano and dancehall music mash-up as the young and vibrant audience steadily grew in number as different DJs like Nersky, Heydez and Alza played a wide variety of mixes.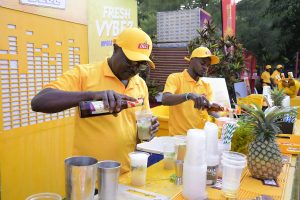 The evening also featured performances from Adrenalyn Musik, who performed tunes like Some Ka Money and Sukali.
Kohen Jaycee – who was a favourite of the ladies – serenaded the crowd with smooth performances of Siganye, Not Letting Go and others, which had the crowd singing along as the sun set and mixologists served Bell Lager cocktails.
The brand had also prepared "The Mpola Park" for guests that preferred a laid-back time relaxing with friends.
The yellow and maroon-themed park provided a comfortable seating area, Bell-themed group games like Ludo and playing cards and a 'Spin the Wheel' section that saw lucky winners walk away with different goodies.
Speaking to the event, Edgar Kihumuro, Bell Lager's acting Brand Manager said, "As the official enjoyments beer, we took this opportunity to help make December even more memorable for our consumers by bringing an even bigger Mpola Enjoyments experience to Vibez Nzuri, and we are proud to celebrate this great milestone with them."
According to Kihumuro, Mpola Enjoyments is the brand's thematic campaign that lets the good times flow for consumers who enjoy chill vibes with their crews alongside some Nyama and ice-cold Bell Lager anytime, anywhere.