Gianni Infantino has been elected FIFA President for the 2023-2027 term of office by acclamation.
Infantino, 52, was handed another four years, after running unopposed at the congress of world football's ruling body currently ongoing in Kigali, Rwanda.
"Let me simply thank all of you," Infantino told delegates after being confirmed by a standing ovation at the 73rd FIFA Congress.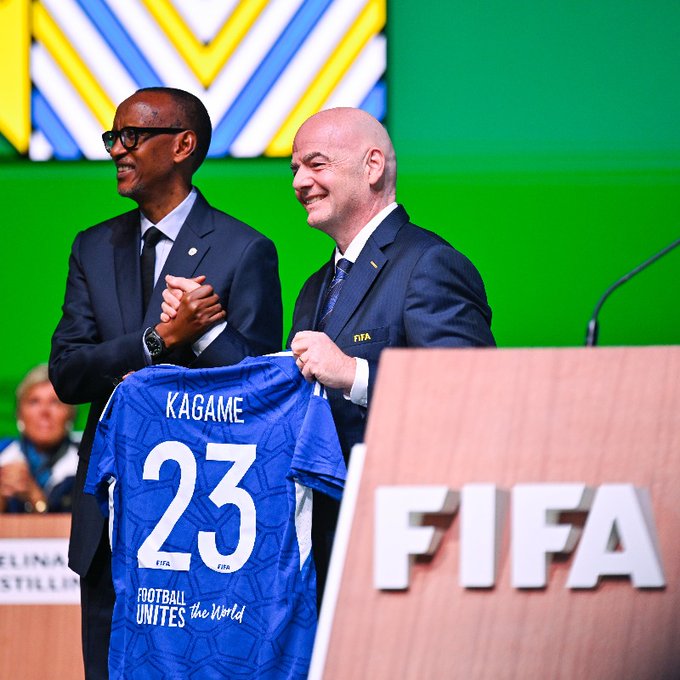 "Those who love me, you are many, and the few who hate me, I love you all. Being FIFA president is a big honour and privilege but also a huge responsibility. You can continue to trust my commitment," he added.
This is officially his first re-election since he initially took over the remaining term of his suspended predecessor, Joseph Blatter, in 2016.
This means he can seek another term from 2027 until 2031, according to FIFA statutes.
More inclusive sport 
His Excellency Paul Kagame, President of the Republic of Rwanda, said in his address to the 73rd FIFA Congress in Kigali that football is becoming a more inclusive sport under the leadership of Gianni Infantino and praised the expansion of the FIFA World Cup to 48 teams.
In his welcome address to the Congress, President Kagame also spoke of the importance of continuing to develop football in Africa and of creating conditions which allow the talent of African players to flourish.
President Kagame said he first got to know Gianni Infantino when the current FIFA President visited Rwanda while campaigning to be elected in 2016.
"I was convinced by his values and by his vision for the positive role that football can play in society," President Kagame said. "He was the leader FIFA needed at that moment, and everything I have seen from that time until now shows me that he deserves to continue to lead this organisation."
"With the FIFA Forward programme and the exceptional leadership of Gianni Infantino, football is becoming a more inclusive global sport," he said, referring to the development programme that the FIFA President introduced after being elected seven years ago.
President Kagame, who received the CAF President's Outstanding Achievement Award 2022 on Tuesday, spoke of the benefits that an expanded 48-team FIFA World Cup™ would bring to Africa, with the number of slots for the continent increasing from five to nine or ten from 2026.
"I welcome the expansion of the number of teams participating in the next World Cup. Under this format, the slots available for African teams will almost double, creating even more engagement and visibility on our continent," he said.
Also praising the leadership of CAF President Patrice Motsepe, he added that African football needed to be protected and nurtured.
"Often, the difference between a successful player in Africa and Europe is not talent; it is the lack of quality infrastructure, training and support," he said. "The football we build here in Africa can have as much value as in the places our players tend to go to [to] pursue their careers."