National Resistance Army (NRA) bush war hero, Lt Gen (rtd) Henry Tumukunde, has praised his deceased comrade Col (rtd) Ahmed Kashillingi as a versatile and capable commander. 
Gen Tumukunde was speaking in a speech read for him at the burial of the late in Rukungiri district, western Uganda. 
"Dear mourners, My heartfelt condolences go out to the family of our departed comrade Col (rtd) Ahmed Kashillingi, the NRA/UPDF family and in particular the people of Kebisoni, Rukungiri district," Tumukunde stated. 
"I happen to be one of the few remaining Bush War comrades that originate from this general area. Our efforts as a group may not be remembered as resoundingly today, and therefore, they may not have as many advocates as they did previously. Thus, I am obliged to speak about Ahmed Kashilingi's time on earth."
He said the late Kashillingi lived a very adventurous life, exhibiting confidence as an individual and as a member of the greater collective. 
"He had the art of presenting himself to the recognition of everyone around him. He lived above board as most of our people do and served with the greatest distinction."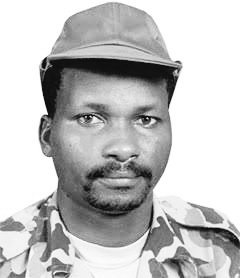 According to the former Security minister, Kashillingi was one of the most versatile and capable commanders. 
He said Kashillingi possessed the benefit of appropriate training and the personal ability to apply his knowledge and skills. 
"He was a courageous officer and his soldiers always had the greatest faith in him. He was a commander in every sense."
"When we served together in the President's Office (civil deployment), he exhibited great professionalism and integrity. He was a great friend to his colleagues, and when required, he would declare his opinions with absolute conviction. I am glad that he has abundantly duplicated himself through his children, especially with those with whom I have had the pleasure of interaction." 
He concluded: "We have lost him before his time but we pray that the Almighty receives him in his glory. Once more, I reiterate my condolences to the family. May his soul rest in eternal peace." 
Gen Tumukunde was present at the vigil in Kampala yesterday and saw off the family as they headed to Rukungiri district for the burial.