The Twitter Account of Lt Gen Muhoozi Kainerugaba, the Commander of the UPDF Land Forces, was Monday evening deactivated.
Moments before the account was deactivated, Muhoozi tweeted, "To all revolutionaries, all fighters for truth, justice and an egalitarian world! I hear that some of us small voices for the billions of voiceless have been targeted by Big Tech for silencing. No worries! The undeniable truth of the oppressed masses shall always win!"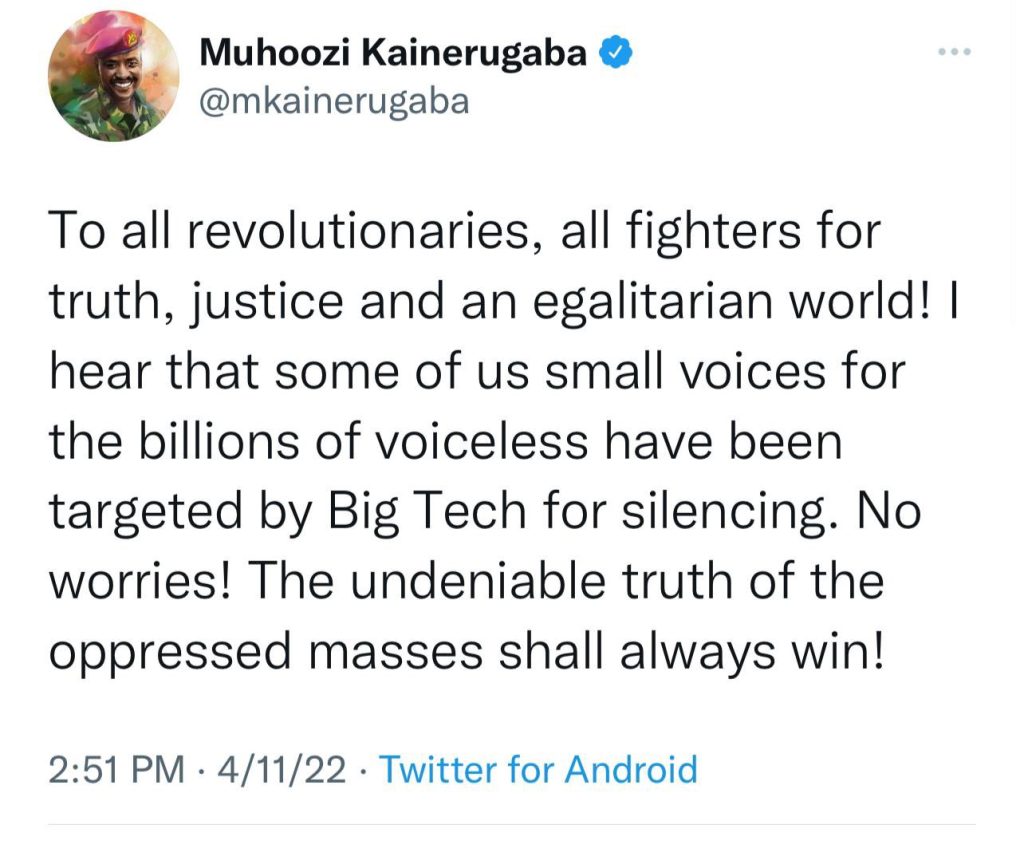 Earlier, reports had hinted on a possible suspension by Twitter, however, according to Mathias Ssemanda, a Diplomacy and International Relations researcher, accounts suspended by the tech giant retain a flag 'account suspended', which is not the case with General Muhoozi's account.
''Twitter's disciplinary process has remained the most transparent. That's why any Suspended account must retain the flag "Account Suspended". However, users that deactivate their accounts have a flag "this account doesn't exist". Learn about twitter notices," Ssemanda explained.
He added: "Yes, the account was deleted by the owner. Case closed!, Twitter policy on account deletion recommends that a user should reactivate their account within 30days after deactivation. If that's not done, the account will permanently be deleted. Let the count-down begin."
It is not yet clear why the General who was keen on tweeting would deactivate his account.
By the time the account was deactivated, he had garnered over 540,000 followers making him one of the very few government officials with a huge following.
A section of his followers who learned about the 'purge' immediately took to social media to condemn the actions of the big tech.
It has since become a subject of online debate.
Last year, as the country prepared for elections internet giants, Facebook and Twitter deleted over 1000 accounts of those perceived as NRM supporters.
In response, government blocked access of the two platforms but would later lift the ban on Twitter.
Facebook remains inaccessible today.