Najjanankumbi based Forum for Democratic Change (FDC) party is on the verge of splitting.
This follows a section of party members led by the party Spokesperson and Kira Municipality Member of Parliament, Ibrahim Semujju Nganda, holding a contentious National Consultative Meeting against orders of the party Secretary General Nandala Mafabi.
The consultative meeting underway at Nsambya Sharing Hall in Kampala, is also attended by other key party leaders including Lord Mayor Erias Lukwago – the FDC Vice President for Buganda, Deputy Secretary General, Harold Kaija, a section of current and former FDC MPs, and FDC District Chairpersons among others.
The meeting is convened by Semujju Nganda.
According to Nganda, the meeting is aimed at refocusing the FDC to its core mission, discuss and resolve challenges before holding party structure elections.
Prior to today's meeting, Mafabi had written a letter terming the meeting as illegal.
In the circular, Mafabi urged all party members to turn up for the grassroots elections scheduled for today, Monday, July 17.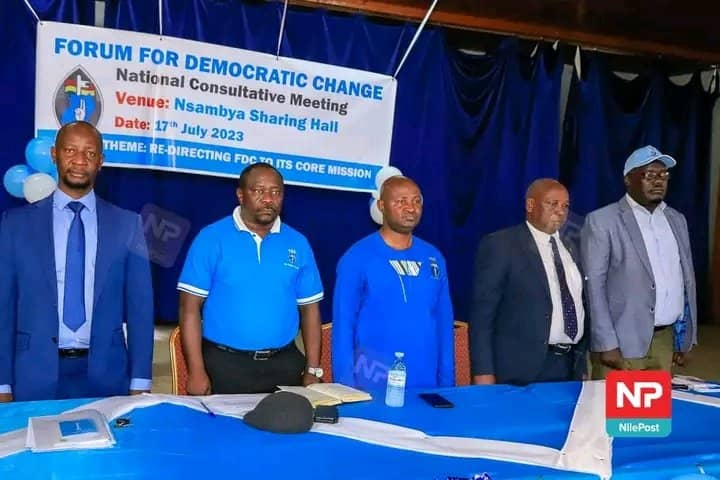 He said that there was no other activity members were expected to be part of, except the said elections.
However, the Semujju- led faction accused Mafabi of trying to use elections to hold grip on the party, and later 'sell' it to NRM.
"Nandala wants these elections to happen so that he can quickly take over the FDC and then load it on a pickup and take it to State House. We are going to reveal all their dealings with the NRM at this meeting, we shall tell all leaders about their behaviour,' Ssemujju said in an interview on NBS Television.
Indeed, at the consultative meeting, Semujju has hinted on the same.
"The planned FDC elections will have Patrick Amuriat installed as party President and Nandala Mafabi as Secretary General. Flagbearer elections will then be 'won' by Nandala who will have a friendly march with Museveni in 2026. Nandala will thereafter hand FDC to Museveni," he said.
The Najjanankumbi secretariat led by Nandala Mafabi, has also been accused of pocketing over Shs 7 billion from President Yoweri Museveni, claims Mafabi and party President Patrick Amuriat Oboi have refuted.
Growing concerns and Dissent