The remains of 12 UPDF soldiers killed in Somalia were returned on Wednesday afternoon.
On the morning of 30th July 2017, Al Shabaab insurgents ambushed AMISOM platoon that were on patrol killing a score of them.
Tears were seen rolling down the cheeks of the relatives as the plane carrying the caskets touched down.
The bodies were received by the Deputy CDF, Maj.Gen Wilson Mbadi, Maj.Gen. Peter Elwelu , Brig.Sam Igumba and Brig.Karemire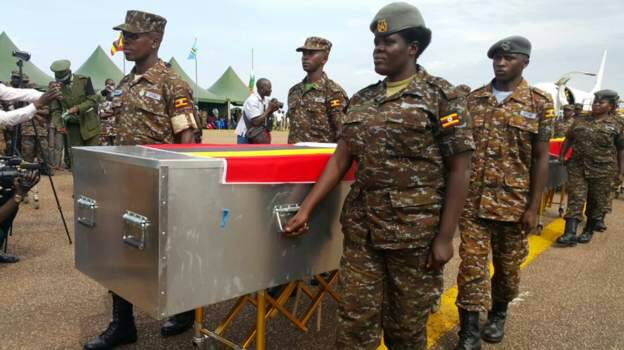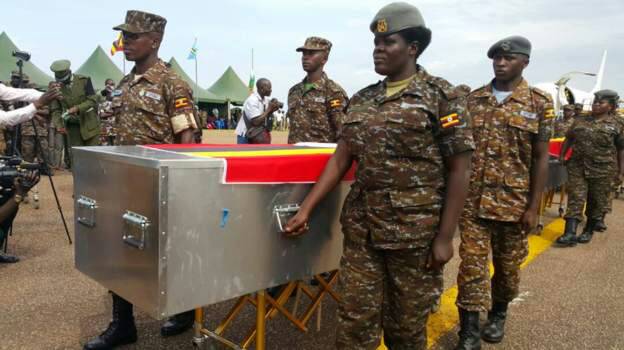 They were later taken to Bombo military hospital from where they will be treated.
According to Zebron Ojuka, he was shocked on hearing the death of his brother, whom he described as the bread winner for many of his family members.
"It is a great loss. He had many dependants who will now have to suffer so as to  earn a living," Ojuka, a brother to Sgt Elimu Faustin said.
Speaking at the function, the army spokesperson Brig.Richard Karemire said the deceased are national heroes who died for peace to prevail.
"This has been a very dignified death. This is how real men should die," Brig.Karemire said.
He, however, said the remaining soldiers will work tirelessly to ensure the mission in Somalia is accomplished.
UPDF first deployed in Somalia under the AMISOM in 2007 and has contributed 22 battle groups in the last 10 years.