Ugandans have been tipped on how safe they can invest in the Real Estate Sector, amidst the Coronavirus pandemic.
City tycoon Sudhir Ruparelia speaking at the URA E-Bomba Ya Business summit held at the URA headquarters in Nakawa, advised Ugandans who wish to invest in the real estate sector to avoid using borrowed money at the infant stages.
"Avoid borrowing if you can, first, try and grow according to the cash flow you have. It is probably the best option, because opportunities come all the time, especially when you have good cash flow. Take those opportunities." Sudhir noted.
The property mogul added, "Work hard, create your cash flow and build without any borrowing, do not borrow till you own a minimum of four properties., borrow to expand knowing you can service the loan."
He However advised those taking mortgages from banks to borrow with a payment plan equivalent to the rent they pay every month. "You can then convert what they were paying in rent into a journey to property acquisition."
Sudhir advised people to take up condominium properties instead of investing in homes that are way out of town.
"I think condos are the future because land in cities is getting expensive. We have a traditional view of every Ugandan wanting to own a house and garden, but you can only expand outwards so people are starting to build far out of town. It takes people two hours to get home and two hours to return. That is time you can use for developing your business," he said.
Speaking at the same event, Judy Rugasira the Chief Executive Officer, Knight Frank, said that people should take time to learn and have some knowledge about what they are investing in.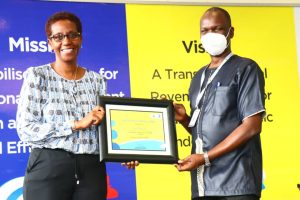 Rugasira explained that Property development is about adding value to land or buildings for a profit at the end of it all. "You can add value by renovating existing structures, conversions or new builds," she said.
She advised those interested in real estate to select the right development option depending on the location of the property, tolerance for risk, finances, local planning regulations, restrictions, the target market, and marketability of the property.
Shriely Kongai the President Association of Real Estate Agents Uganda, said that on the commercial real estate side, a lot of people are leaving the central business district properties to the outskirts.
She however noted that property owners have also become more creative where some have offered plenty of incentives to clients to keep attractive.
URA, on October 15 started the third edition of the E-bomba Ya Business summits. The month-long virtual engagements seek to equip business owners with financial growth skills and knowledge to foster business sustenance and voluntary compliance.
According to the tax body, the engagements are designed to educate business owners about financial growth and voluntary compliance.
The first episode of the summits focused on survival through the pandemic with deep conversations on business financing and alternative skills adoption by sectors grossly affected by the COVID-19.