Experts have cautioned business owners against unnecessary expenditures as they recover from the pandemic emphasising that all resources are now needed for business survival.
Speaking at the Uganda Revenue Authority (URA) e-Bombaya Business summit held on Friday at the URA headquarters, Ruth Biyinzika the head Skills Development Facilities at the Private Sector Foundation Uganda (PSFU) said that with the pandemic, businesses should now be in a time of personal Finance Management, where unnecessary expenses are being cut.
"We're now in a time of Personal Finance Management. Cut off unnecessary expenses. This is the time for a Business owner not to compete in expenditure but to compete in innovative turn around ideas that can help transform your businesses," Biyinzika said.
She advised business owners to take note of expenditures ranging from rent, un necessary employees, Digital transformation.
"You need also to check the rent you pay. People are operating in suburbs, paying less rent and making a lot of profits. Its time to think if truly u need to have your business in Kampala," Biyinzika said.
Speaking at the same event, Crystal Kabajwara the Director Tax at Price Water House Coopers said that Businesses that have survived through the Covid-19 period have embraced innovation, flexibility in prices, diversity in suppliers and cooperate governance .
According to the URA Ag. Commissioner General Abel Kagumire, URA's main focus is now on business opportunities and how businesses can recover from the pandemic.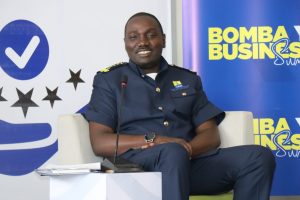 Kagumire noted that most of the businesses which were a big source of revenue for government have been greatly hit by the effects on trade by the COVID-19 pandemic and this has affected tax collections by the institution.
Kagumire pointed out sectors like education, food services and accommodation and arts and recreations as those that have been grossly affected in this era.
"Collections from the food service and accommodation hit a dive of 37% especially because the sector is driven by tourists who were locked up in their respective countries," he said
Kagumire, however says that the revenue body is hopeful of a change in the sector collections because of the vaccines that are making travels much safer.
Kagumire further explained that unlike the past where the tax burden was carried by a few entities, the authority is to embark on expanding the tax register so that the businesses recovering from the pandemic effects are not overwhelmed.
"URA has embarked on expanding the taxpayer register because we know that there are many Ugandans out there in profiting business but are not paying taxes. We intend to this with comprehensive tax education so that everyone contributes to betterment of this country" said Kagumire
Uganda's tax burden was held by slightly over 1.7 million taxpayers by the end of financial year (FY) 2020/21.However, this figure is expected to expand by 400,000 additions as the authority is set to have 2.1 million taxpayers by the end of FY 2021/22.
Fabian Kasi, the Managing Director Centenary Bank said that as a bank they have tried restructuring loans to help the business pick up from the pandemic effects.
Uganda Revenue Authority (URA) has kicked off the third edition of the e-bomba ya business summits with discussions on survival of businesses in the wake of the effects of COVID-19 pandemic.
The e-bomba ya Business summits will run in series on Fridays up to 12th November 2021.
The month-long virtual engagements are aimed tipping business owners on financial growth and fostering voluntary compliance. These have been incorporated with skills to help businesses thrive in the new normal.
URA started the e-bomba ya business summits in 2019 as one of the activities in the Taxpayers Appreciation Month to equip business owners with necessary skills for financial growth and these were held at Kololo independence grounds.
However, due to the pandemic, these went virtual to cope with the standard operating procedures to curb COVID-19.
URA says that it will continue to equip segmented taxpayers with skills to thrive financially as it marks a 30-year anniversary.
A similar engagement will be held for the youth in January in an Open Minds Forum Engagement.