The sixth President of Somalia, Sharif Sheikh Ahmed has described the fallen Deputy IGP, Maj Gen Paul Lokech as "one of the gallant sons of Africa" whose contribution towards the stabilisation of Somalia will always be remembered.
The former president was Friday addressing mourners at Baibir Village, Ludele parish, Pader Town Council, in Pader District.
General Lokech served as the Commander of Uganda's AMISOM contingent from May 2011 to 2012 and again between December 2017 to December 2018.
During his two tours of duty in Somalia, the deceased was described as a man of character, great courage, integrity, and honour – a brave and strategic fighter, who was instrumental in commanding the counter-insurgency operations that drove Al-Shabaab out of Mogadishu in October 2011.
"Death has robbed Uganda and Africa of one of the icons of liberation and stabilization of Somalia, our beloved Gen Lokech. He was admired by all Somalis for his dedicated service, Pan-Africanism, discipline, courage and bravery in Somalia," he said.
"During his first tour of duty, he led AMISOM forces that jointly with the Somali National Forces defeated Alshabaab in Mogadishu and the Shebelle region," adds the former President of Somalia.
At the time, Sharif Sheikh Ahmed was the country's President and Commander in Chief of the Somali National Forces.
He says Somalia was going through very challenging times fighting against the Alshabaab militias but Gen Lokech would fearlessly command his forces from the Frontline and defeated them.
"This is the reason Gen Lokech earned himself the title of the Lion of Mogadishu," he says.
Sheikh Ahmed explains that the deceased's efforts to stabilize Somalia enabled the country to hold the first democratic elections in 2012 after over four decades.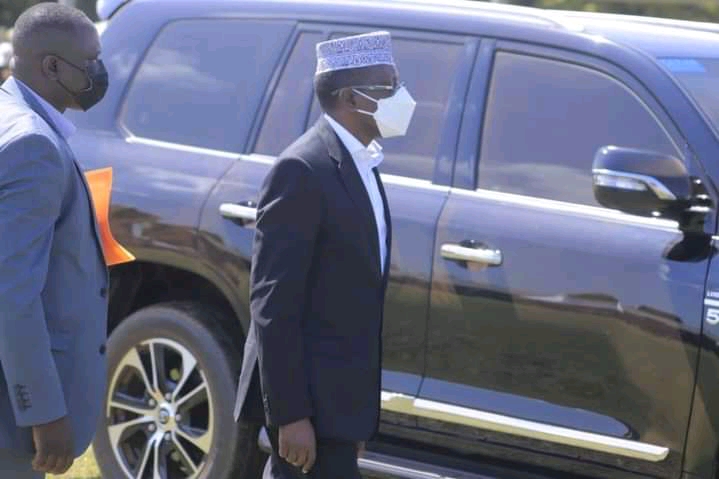 He said Gen Lokech will always be remembered for the inspiration among Somalis for having served with dedication to extend peace and stability in Lower Shebelle regions which were previously occupied by the Alshabaab militias.
The former president recalled a number of other achievements of the deceased in Somalia including handing control of Mogadishu and Lower Shabelle arears to Somalia national forces as well as being involved in the efforts to implement the efforts of the Somali Transition Plan in 2018 during his second tour of duty in the Horn of Africa country.
"I and the Somali people grieve with you and it is for this reason that I have come to join Ugandans to convey our deep appreciation to the great son of Africa for the historical achievements he attained in Somalia," remarked the former President.
Gen Lokech died on Saturday last week from his home in Kitikifumba, Kira Municipality in Wakiso District. According to Police Spokesperson Person CP Fred Enanga, his death was caused by a blood clot in his lungs.