The World Wide Fund for Nature-Uganda (WWF), has called for combined efforts towards prioritizing promotion of Renewable Energy through mini grids system as a way of tackling issues on climate change as well as economic development.
Speaking at the Power Forum held in Kampala, the WWF Uganda Country Director, David Dulli, noted that the forest cover in the country has drastically reduced and this loss is partly attributed to the unsustainable use of biomass and encroachment to these resources by the community in search of timber as a source of income.
Dulli noted that there is need for government to prioritize construction of mini grids in off-grid communities around the country and engaging private sector players to invest in the renewable energy solutions to accelerate the uptake and use of these technologies.
Among its initiatives, WWF is promoting clean energy access and the transition to a low carbon development pathway through rural electrification using solar mini-grids.
In Partnership with the Ministry of Energy and Mineral Development (MEMD), Dulli revealed that they have installed seven solar mini-grid systems so far, in Kasese and Rubirizi districts with a total generation capacity of 175kW.
"These can potentially supply over 1,800 homes and 200 business centres, the mini grids produce energy for lighting, commercial and other productive uses to business and mainly lighting and phone charging to households," he said.
Dulli noted that the initiative, has created new opportunities for livelihood improvement through productive use of electricity, creation of new jobs especially for the youth and contribution to sustainable and inclusive economic growth in these rural communities.
Additionally, WWF under the same project supported by the European Union has distributed 11,200 solar home systems, a move that has increased access to solar use by the off-grid communities.
Speaking at the event, the Minister for Energy and Mineral Development, Ruth Nankabirwa, said the power Forum is very important, noting that government is committed to improving electricity generation, transmission and distribution.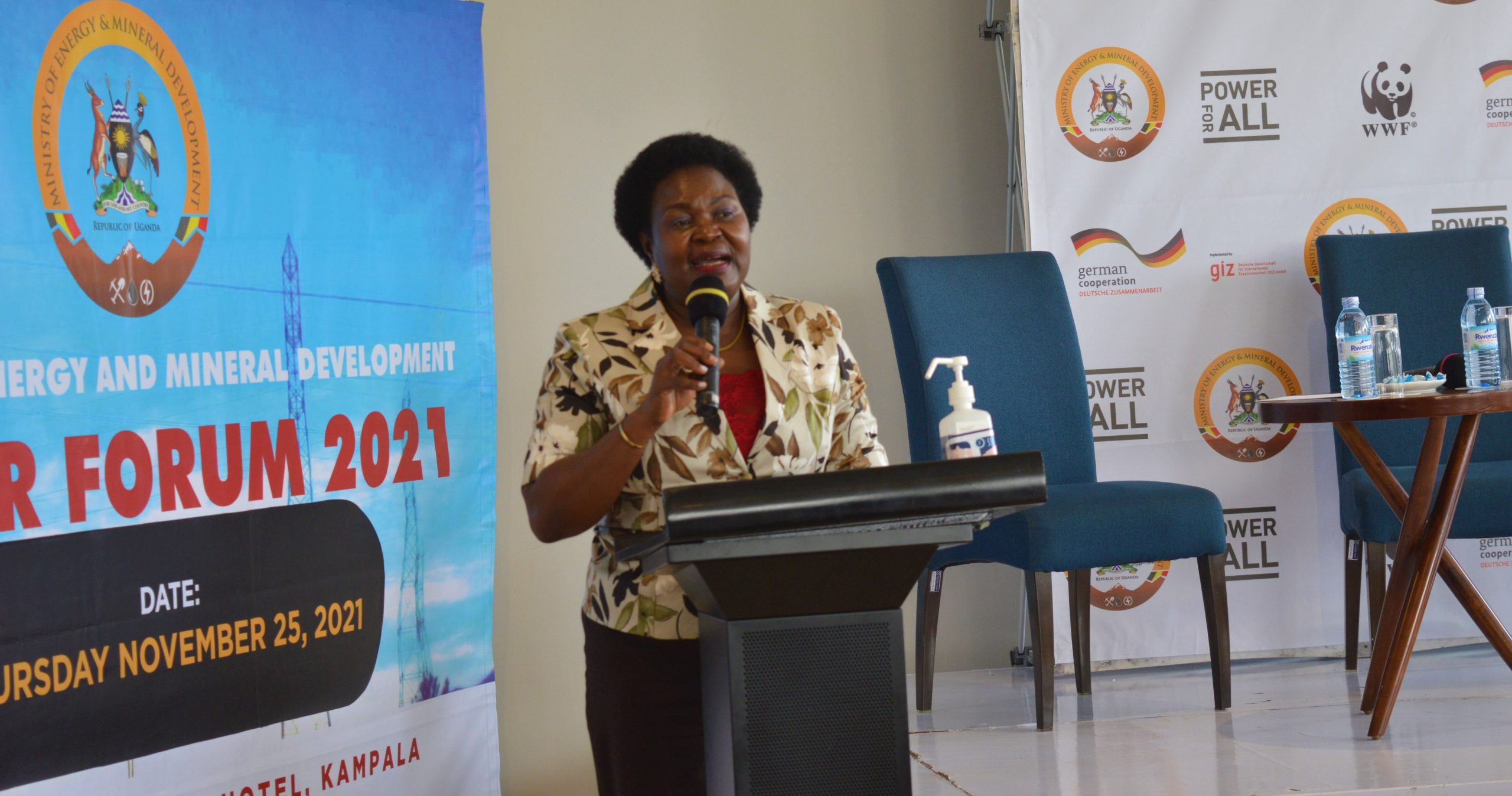 Nankabirwa noted that this will support industrialization, and increased level of access to affordable, reliable and modern energy services.
She revealed that Uganda's current electricity generation capacity has increased to 1,300MW, and is expected to exceed 2,000MW by June 2022.
"Over 1.526 Million households are now connected to the national grid electricity. Government of Uganda through the Electricity Connections Policy, has facilitated access to electricity for 291,048 households through free connections to electricity consumers," she said.
The energy minister, revealed that government is also spear heading the amendment of the Electricity Act 1999 to provide for purchase of electricity directly from generators or Transmission Company by large industrial customers to reduce the end user tariff for manufacturers.
A study by World Bank in 2016, revealed that electricity is affordable if 30 units of electricity (kWh) a month costs no more than 5% of household income.
However, Dulli says most of the communities in Uganda (95%) live in rural areas and below the poverty line (0.88USD-1.04USD/person/day).
Currently, Uganda has 34 installed mini-grids that are currently serving approximately 20,000 households, according to Dulli, this is less than 1% of the 7.3 million households in the country.
He noted that Uganda's renewable energy potential has not been fully exploited beyond hydropower.
"In 2009, Uganda created feed-in tariffs for renewable energy and the Modern Energy Service Programme in 2011 to promote bio-fuels, Currently, biomass supplies about 90% of the country's energy needs," he said.
He noted that biomass utilisation together with the population growth have put much pressure on Uganda's forests, which covered 26.4% of the country's surface in 2018 and has been decreased by 18% since 2000.
He however noted that, with funding from the European Union, WWF is implementing the Scaling-Up Rural Electrification Using Innovative Solar PV Distribution Models Project.
Dulli says the overall objective of the project is to improve rural livelihoods and reduce the greenhouse gas emissions through widespread access to clean and renewable sources of energy by 2025.