Employers in Uganda have been challenged to employ persons with disabilities as a strategy for promoting inclusive employment and social inclusion in workplaces.
The call was made by Light for the World Uganda, a global disability and development Non-Governmental Organisation, in partnership with the Federation of Uganda Employers (FUE) under the Uganda Business Development Network, at the second career fair for people with disabilities held at Africana hotel Kampala.
The fair aims at developing the confidence of employers in being disability-inclusive and connecting people with disabilities to suitable employers.
It follows the successful implementation of a similar Career Fair in December 2021 where all the 30 persons with disabilities that attended were successfully connected to different organizations and are all currently employed.
Speaking at the event, Light for the World Uganda's Country Director, Silvester Kasozi, acknowledged that although the number of organizations and companies embracing disability inclusion is steadily increasing, a lot remains to be done.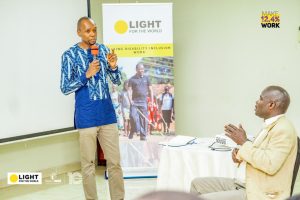 "We are glad that more organizations are coming on board to create inclusive spaces for persons with disabilities. However, we still have a long way to go. For example, out of the six hundred eighty-nine registered members of the Federation of Uganda Employers, less than 23% have begun their journey to creating disability-inclusive workspaces. This goes to show how long our journey is as employers, to ensure that we leave no one behind," Kasozi said.
Ambrose Murangira, the Thematic Director of Disability Inclusion at Light for the World, tasked organizations to make adjustments at workplaces and provide reasonable accommodation to persons with disabilities.
He noted that providing reasonable accommodations is one-way employers can facilitate the inclusion of people with disabilities during job interviews.
"For example, having sign language interpreters present during job interviews for people with hearing impairments, or having ramps and/or lifts in buildings to make them accessible for people with physical impairments," he said.
Douglas Opio, the Executive Director Federation of Uganda Employers (FUE), noted that 12.4 percent of the general population per the national census are persons with disabilities which calls for a deliberate move to not only look for them but also get them jobs.
He said that many persons with disabilities, have the right competencies and qualifications but do not have jobs, the reason why they are trying to create awareness and link with the employers and persons with disabilities.
He said as a consortium, they created the Uganda Business and Disability Network Organization to bring together employers who are willing to employ persons with disabilities, adding, so far, the results are good with a number of organizations coming on board.
He advised them to be confident and know how to present themselves during job interviews.
Brenda Balaba, a person living with Albinism, and a graduate of Business Administration from Makerere University Business School, said persons with disabilities are facing challenges of discrimination and stigma in the workplace.
"When people realize you are disabled, the company feels you don't have potential. We really face a lot of challenges, especially with getting employment mostly for people with albinism," she said.
Adding, "Most employers look at your disability, instead of your ability. We have low vision; we need specialized equipment which most employers attach to costs. We can't write in normal fonts. Some think you're reluctant on the job yet it's not the reason."