The Minister for Local Government, Raphael Magyezi, has urged Ugandans to embrace the different poverty alleviation programs by the government to help better their livelihoods.
Magyezi noted that government has set up different poverty alleviation programs like the Parish Development Model, Youth Livelihood, Emyooga among others, but a section of Ugandans have not fully utilized them.
"Your government is giving Shs1m each at the parish, and you are a group of 70, that is Shs70m, why don't you join and get these funds," Magyezi noted.
He revealed that government may not eradicate poverty in totality but it can contribute to enhancing livelihoods of citizens.
He made the remarks at Kampala Serena Hotel during a high-level meeting with donors under the Livelihood Fund (LLF), hosted by the local government ministry and Microfinance Support Center.
The 13-member senior delegation includes donor members from the Islamic Development Bank (IsDB), the Abu Dhabi Fund for Development (ADFD), the Bill and Melinda Gates Foundation, the Islamic Solidarity Fund for Development (ISFD), and King Salman Humanitarian Aid and Relief Centre (KSrelief).
The LLF supported US$ 33 million initiative, titled, Local Economic Growth Support (LEGS) Project, which covers 17 districts namely: Adjumani, Alebtong, Bunyangabu, Buikwe, Buyende, Gomba, Kabarole, Katakwi, Kyenjojo, Kibuuku, Kumi, Luweero, Nakaseke, Ntoroko, Nwoya, Rukungiri, and Tororo.
The delegation aims to articulate and reinforce the joint efforts of the Fund and the Government of Uganda in prioritizing medium to long-term development goals such as poverty reduction, sustainable development, and climate change management through the project.
Magyezi noted that they want to reach 40 districts calling for more funding from the development partners.
In his special message on the occasion, His Excellency Mohamed Saif Al Suwaidi, Director General of Abu Dhabi Fund for Development, said, "The success of the Local Economic Growth Support (LEGS) Project in Uganda is truly inspiring."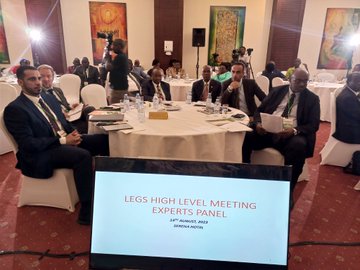 He added: "This experience is proof of the value of sustainable development and teamwork. We are thrilled to be able to increase agricultural productivity through our strategic relationship, improve food security, and give local communities the tools they need to prosper, reflecting the vision of the UAE."
Professor Augustus Nuwagaba thanked the implementors of the project calling for more funding in the Agricultural sector.
He noted that the agricultural sector employs more people but contributes less to the country's GDP.
He noted that Uganda can easily develop if many people who are in the agricultural sector join the money economy.
According to statistics, more than 80 per percentUgandans live in rural areas and more than 70 percent rely on agriculture for their livelihoods.
The LLF, through LEGS Projects, is channelling financial and technical support to resource-strapped farmers via local governments, and providing seeds, water, rural extension, and other services.
Speaking during the media talk, Dr. Iddrissu said, "LLF and our donors are proud to be partnering with the Government of Uganda to deepen their footprint in the development landscape of the country. LEGS is not just another project; it is a process that is harnessing resources from within and outside the community to spur economic growth in a systematic and organized manner at the local level."

Both LLF and the Government of Uganda voiced strong commitment to a new way of working that shifts the focus from meeting short-term needs to sustainably raising productivity of farmers, among others.
IsDB is one of the key sources of external financial assistance for Uganda, advancing economic resilience with a focus on job creation, climate stewardship, and sustainable infrastructure and development.