The Electoral Commission has granted former Presidential candidate Dr. Abed Bwanika permission to begin mobilizing signatures for a national referendum on the contentious proposal by the ruling party to amend the constitution and remove Presidential age limits. Bwanika in July began engaging the electoral body demanding that it organizes a referendum under Article 255 of the Constitution.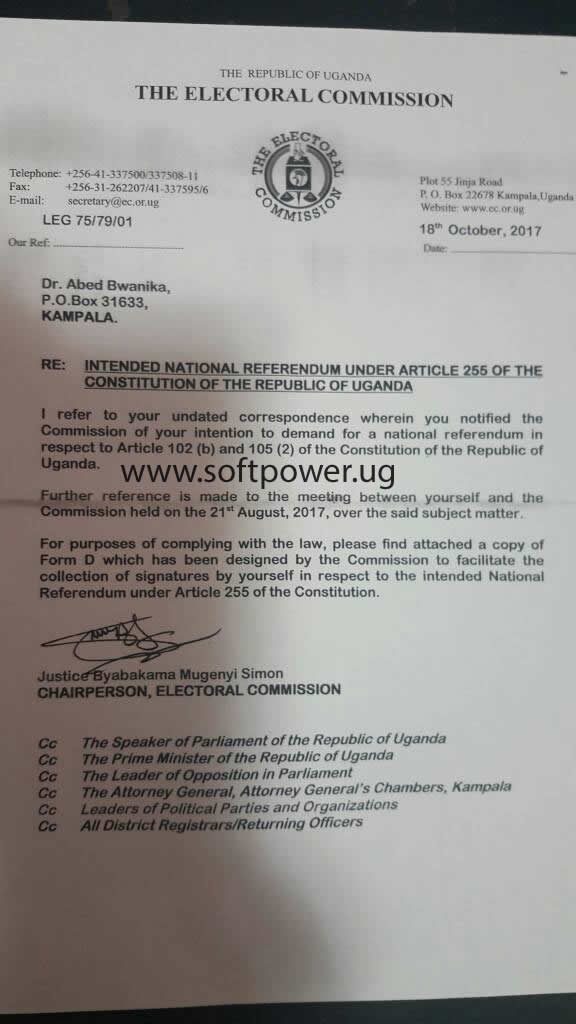 The Article provides that: "Parliament shall by law make provision for the right of citizens to demand the holding by the Electoral Commission of a referendum, whether national or in any particular part of Uganda, on any issue."
As opposed to what supporters of the Age Limit Bill are pushing (constituency consultations on the amendment), a national referendum would give every Ugandan an opportunity to decide on the issue through the ballot.
Having launched a campaign dubbed Referenda 2017, Bwanika wrote to the Chairman of the Electoral Commission Justice Simon Byabakama requesting that the body pronounces itself on the way forward regarding the referendum.
In a letter obtained by Soft Power, dated October 18, written by the Electoral Commission boss in response to Bwanika's request, he endorses the request and provides the required documents (Form D) to enable him (Bwanika) collect the signatures.
"For purposes of complying with the law, please find attached a copy of Form D which has been designed by the Commission to facilitate the collection of signatures by yourself," Justice Byabakama writes.
The letter is copied to the Speaker of Parliament, the Prime Minister, Attorney General, Leader of Opposition in Parliament and all district electoral registrars.
The Electoral Commission spokesperson, Jotham Taremwa confirmed the development to this website saying; "It is true Dr. Bwanika approached us and we have guided him on what is required to conduct a referendum. Article 255 of the constitution gives every registered voter that right. Section 11 of the Referendum and other Provisions Act too."
"In order to cause a referendum, one needs a tenth of the total number of registered voters realised from a third of the total number of districts of Uganda," Taremwa said.
"Form D is a requirement by law, it guides the person seeking a referendum on how to record details of the people in support. It has voter details like Name, where the voters were registered"
Some supporters of the age limit removal including MPs have been opposed to the idea of a referendum claiming it is a waste of time. It remains to be seen whether Bwanika will get the signatures in time to beat the seemingly rushed ongoing consultations.
If the three time Presidential candidate gathers the required signatures and the process is successful, this will be Uganda's second national referendum in its history. The first was held in July 2005, when citizens took to the ballot to decide whether or not the country would restore multipartism.