An agreement for an immediate ceasefire and withdrawal of M23 rebels from occupied areas in the eastern Democratic Republic of Congo was reached Wednesday in the Angola capital, Luanda.
According to Angola's Foreign Minister, Tete Antonio, an agreement was reached for an "immediate ceasefire" in the DRC at 6:00 pm Friday.
At the mini-summit attended by DR Congo's President, Felix Tshisekedi, and Rwandan Foreign Minister, Vincent Biruta, the parties also agreed to demand "the immediate withdrawal of M23 rebels from the occupied areas".
"If the M23 does not withdraw, the heads of state of the East African Community (EAC) will be able to authorize the use of force," reads a communiqué by the participants at the November 23 summit in Luanda.
The final communiqué calls for absolute compliance with the prescriptions of the communiqués of the conclaves of the heads of state of the EAC of April 21 and June 20, 2022 (Nairobi process), the Luanda roadmap of July 6, 2022 (the process of Luanda) and the conclusions of the extraordinary meeting of the Chiefs of General Staff of the EAC Armed Forces (Bujumbura, November 8, 2022).
The communiqué was signed by Angola President João Lourenço, Burundi President Évariste Ndayishimiye, Congolese President Felix Antoine Tshisekedi, former Kenyan President Uhuru Kenyatta and Vincent Biruta who represented Rwandan President Paul Kagame.
It also orders the cessation of all politico-military support for the M23 and all other local and foreign armed groups operating in eastern DRC and the region.
Participants demanded the disarmament and cantonment of the M23 in Congolese territory under the control of the FARDC, the Regional Force and the Ad Hoc Verification Mechanism, with the collaboration of MONUSCO.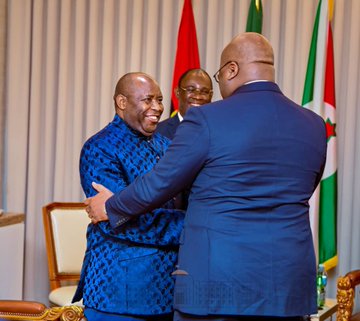 "The Heads of State have requested that the FARDC, the Regional Force and the Chiefs of General Staff (CGS) of the EAC Regional Force, in collaboration with MONUSCO, study all issues related to the disarmament and cantonment of elements of the M23 and submit proposals to them at their next mini-summit."
The signatories of the final communiqué further recommended the resumption of the Rwanda-DRC dialogue which should lead to the normalization of diplomatic relations. DRC accuses Rwanda of aiding the M23 rebels.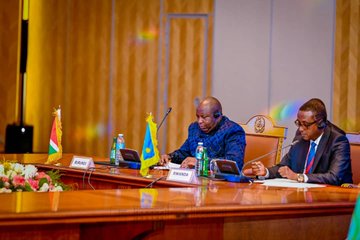 Ahead of the talks, the UN Security Council strongly condemned the resumption of attacks by M23 rebels in North Kivu and the advances of M23 towards the city of Goma and in other areas.
In a press statement issued on Tuesday 22 November, Council members demanded the immediate cessation of hostilities and any further advances by M23 and its withdrawal from all occupied areas.
The Security Council underlined  "the commitments made by the region within the framework of the Peace, Security and Cooperation Framework for the Democratic Republic of the Congo and the region not to tolerate or provide assistance or support of any kind to armed groups".
They, therefore, called for the cessation of all external support to non-state armed actors, including the M23.