The Democratic Republic of Congo (DR Congo) has promised tax holidays to Ugandan investors and agreed to discuss and resolve issues around immigration and taxation between the two countries.
This was during the Uganda-DRC Business Summit currently ongoing in the capital Kinshasa, with another leg in Goma city to start on 4th June.
While opening the summit at Fleuve Congo Hotel on Monday, Jean Lucien Bussa, the Minister for Foreign Trade, said Ugandan investors would be given a number of tax holidays should they take up opportunities in DR Congo.
According to Bussa, the business climate in DR Congo has been enhanced.
"We have various tax incentives for you. We liberalised the sectors of insurance and electricity. Income tax for foreign companies was reduced," he said.
Quoting President Felix Tshisekedi, Bussa said they have no choice but to take advantage of their protentional to create African billionaires.
The Ugandan delegation is in Kinshasa to rebuild Intra-trade linkages aimed at promoting trade in both countries. The delegation will also explore business and investment opportunities in Goma city.
Easing trade
The officials on both sides discussed the easing of trade in their countries.
"We are here for joint ventures and mutually beneficial relationships with our Congolese partners," said Private Sector Foundation-Uganda (PSFU) Board Member, Sarah Kagingo.
Kagingo who is representing PSFU Board Chair Elly Karuhanga at the summit cited the need for value-addition.
"We look forward to adding value to our products, increasing their shelf lives, and penetrating the African market starting with EAC. We are here to also resolve the barriers to trade between our two countries. Right now, we can only access Kinshasa by flight. And the flight charge per kilo is 1.5 dollars, that's definitely a trade barrier," she told CGTN television.
Congolese officials are looking forward to the return of peace and more investors in the country.
They believe peace, stability and security will enable the country to significantly increase the size of economic activities and create wealth and more opportunities for the people.
The Ugandan army (UPDF) and DR Congo army (FARDC) are currently carrying out operations to wipe out Allied Democratic Forces (ADF) rebels from the country's troubled east.
"We invite Uganda investors and those from other countries to come to DR Congo and set up shop because the competition is very high. This is an opportunity for Uganda and DR Congo to produce millionaires by transforming our natural resources," a Congolese official told CGTN TV.
DR Congo, the second biggest country in Africa, is endowed with vast mineral resources.
Opportunities
The second day of the summit included panel discussions on sector opportunities in DR Congo where technocrats from both countries shared with participants, the opportunities present at the Uganda-DRC Business Summit.
Uganda Exports Promotion Board (UEPB) Executive Director, Elly Twineyo, made a presentation on the market opportunity to boost trade between Uganda and DR Congo.
UEPB's Congolese counterpart National Export Promotion Agency (ANAPEX) also presented. UEPB agreed to build the capacity of ANAPEX while the latter agreed on the list of imports/exports.
The Managing Director of National Agency for Investment Promotion of Congo, Mr. Anthony Nkinzo Kamole, presented the process of investing in DR Congo; the laws, steps, policies and taxes involved.
Most importantly, he emphasised following the process when investing.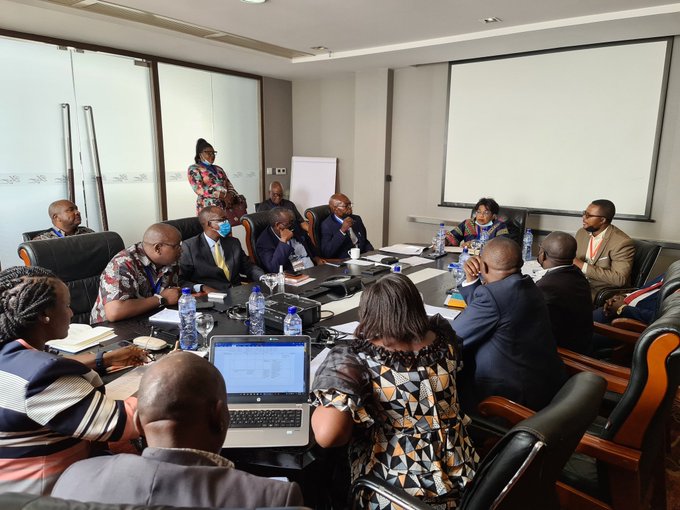 Representatives of Uganda's private sector; NFT consult (ICT), Movit Ltd, Sugar Association, Logistics and Transport Association, Steelworks etc, also pitched to the Congolese business community about the opportunities around Ugandan goods coming to Kinshasa.
Movit Products Limited currently has 07 distributors in DR Congo, 100 Congolese have been employed across the distributor channels and exchange programs to enhance human resource capacity and career growth are ongoing.
We are here to do business
Badru Ntege, Chair ICT Sector at PSFU, said Uganda is ready to offer DRC knowledge and Information and Communications Technology solutions.
"We are in Congo to do business. We have mobilised and travelled with a consortium of private and government sector players," said PSFU CEO, Stephen Asiimwe.
He added: "We want a return on investment for this initiative."
Uganda's first deputy Prime Minister and Minister for East African Community Affairs, Rt. Hon. Rebecca Kadaga, who is leading the Ugandan delegation, promised to speed up the ratification of DR Congo as a member of EAC.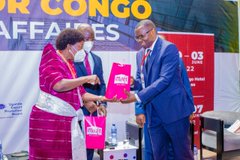 "I am a senior person in the government of Uganda. The reason I am seated here is to listen to your issues and see how to resolve them. We must get solutions for these issues," she told the summit.
Rt Hon Kadaga committed to resolving issues hindering the movement of people and goods between Uganda and DR Congo.
"I pledged to arrange quarterly meetings of the Agencies that attended the Business Summit to review progress on agreed areas," she tweeted.
Uganda will be signing numerous Memoranda of Understanding to invest in DR Congo at the summit. Uganda and DRC will hold the Summit annually.
There will be quarterly reviews between both governments to evaluate progress.
The day climaxed with a cocktail hosted by the Uganda Embassy in Kinshasa and attended by Ugandans living in Kinshasa as well as the Uganda Delegation.
The cocktail was graced by the Head of Delegation, Rt Hon Kadaga and Odrek Rwabwogo, the Presidential Advisor on Special Duties and Export Promotion.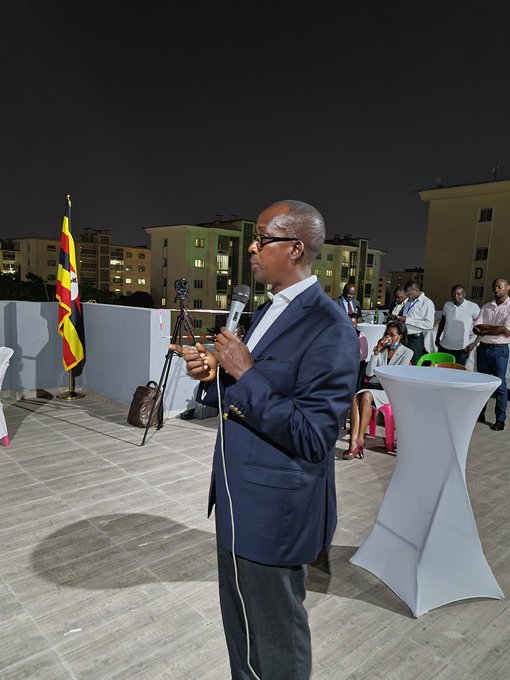 "I thank Ugandans working in Kinshasa for being pathfinders. They took the risk when nobody could," Rwabwogo said at the dinner.
Immigration and taxation issues
The third day of engagement at the summit saw Ugandan entrepreneurs continue engaging Congolese counterparts on cross-border investment opportunities. The focus was on Business-to-Business engagements.
The governments of Uganda and DR Congo agreed that the issues of immigration will be addressed in the upcoming Joint Permanent Commission (JPC).
These issues include; disparity in the duration of visas, the visa costs, reciprocity in gazetting entry and exit points, charges on exiting the airport (Go pass), multiple travel documents, and differences in opening and closing hours in both countries, among others.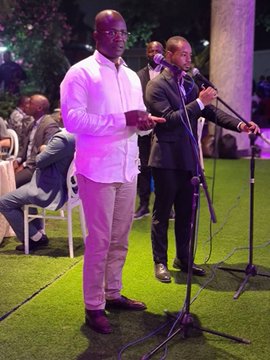 A meeting between Uganda Revenue Authority and DRC Customs Agency addressed the issues around taxation.
It was attended by the Permanent Secretary of Trade, Heads of UNBS, Export Promotion Board, Odrek Rwabwogo, Ambassador Katureebe Tayebwa, and many other officials from both governments.
The third day also climaxed with a dinner at Fleuve Congo Hotel hosted by His Excellence Monsieur Jean Lucien Bussa, DR Congo Minister for Foreign Trade.
"At the end of this forum, we shall have a win-win situation and I can assure you that the Democratic Republic of Congo will be sending a team to Uganda for a reciprocal forum", Minister Bussa said at the dinner.
The summit was organized by Private Sector Foundation in partnership with Equity Bank, Uganda Export Promotions Board, Uganda Manufacturers Association, Trade Mark, Uganda Airlines, Office of the Senior Presidential Advisor on Special Duties, Uganda National Chamber of Commerce and Industry and Federation des Entreprises du Congo (FEC).