The Director of Public Prosecution (DPP), Jane Francis Abodo, has withdrawn all charges against Rwenzururu King Charles Wesley Mumbere and 217 others.
The charges include; murder, terrorism, treason, malicious damage to property, attempted murder, aggravated robbery, etc.
They were withdrawn on Tuesday morning before the International Crimes Division (ICD) Court presided over by Lady Justice Alice Komuhangi Khaukha.
The Principal State Attorney, Lillian Omara, informed the court that the DPP had lost interest in the case and was withdrawing charges against the accused persons.
The letter withdrawing charges was signed by Abodo.
The group was granted amnesty by the Amnesty Commission after admitting to having participated in the crimes, denouncing rebellious activities and reconciling with the government.
Only Masereka Kamada and Thembo Kitsumbire, the former Rwenzururu Prime Minister, who refused to apply for amnesty, will be prosecuted.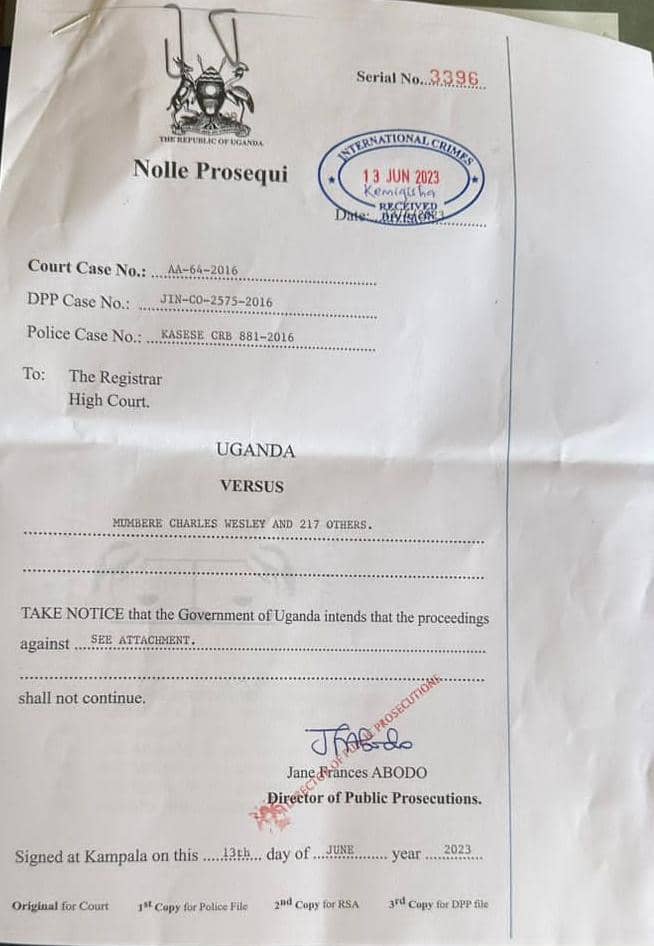 Background:
Mumbere and other 217 suspects including royal guards and some kingdom officials were arrested in 2016 after the army raided the Buhikira Royal Palace in Kasese in an attack that left over 100 people dead and scores injured.
They were implicated in the September 14, 2016 murder of two Police Constables Saverio Ochema and Simon Peter Apille and the attempted murder of Detective Police Constables Polycarp Ojoko, Benon Byaki, Francisco Nsimaki, and Assistant Inspector of Police Denis Ahebwa.
They were further implicated in the murder of Police Constable Godfrey Kasimba on March 24, 2016, who was attached to Field Force Unit.
According to the prosecution, the suspects also attacked several police stations and property in Bukara and Nyabutsi villages in July and November 2016.
Before the army attacked his palace, security officers alleged that it was a training ground for royal guards who planned to destabilize the country.