Tanzanian bongo flava recording artist, Naseeb Abdul Juma Issack, popularly known by his stage name Diamond Platnumz, is expected in Kampala this July to perform at a Comedy Store Fundraising concert.
The concert to be held at Kololo ceremonial grounds on July 14 will also feature Kenyan pop artist, David Mathenge, better known by his stage name Nameless.
Nameless, a multi-award winning artist, through his musical talents, has paved the way for many artists in Kenya to be recognized globally and get opportunities to work with other African artists.
Other artists who will perform at the charity concert include; Spice Diana, King Saha, Winnie Nwagi, Ray G, Alien Skin, Karole Kasita, Naava Grey, Zex Bilangilangi, Daddy Andre, Abeeka Band, Eezzy, Figo West, etc.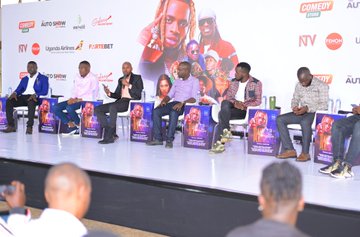 Comedians will include; MC Mariachi, Madrat & Chiko, Mualana and Reign, Teacher Mpamire, Merry Heart, Sammy and Sahwa, among others.
Diamond, who has gained a massive following in East and Central Africa, will headline the show.
He will perform for two full hours, giving his fans and lovers a thrilling experience.
Tickets go for Shs70k (Normal), Shs150k (VIP) and Shs3m (Table of 5). Early bird tickets can be purchased at www.ticketsasa.com.
The charity concert
Addressing journalists at UMA Showgrounds in Lugogo on Monday, Comedy Store Founder, Alex Muhangi, said the fundraiser concert is aimed at raising funds to support activities run by Comedy Store Foundation.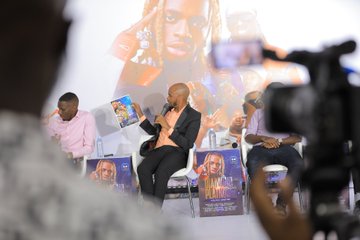 Comedy Store Foundation was started in April 2022 to run programs aimed at facilitating youth skilling and mentorship as well as positively impacting the society within which Comedy Store operates.
According to Muhangi, the foundation runs three programs; the Annual Home of Hope Charity Football Match, Comedy Store Auditions and Youth Training & Mentorship Program.
He said the programs are currently concentrated in Kampala due to limited resources.
The proceeds from the concert will enhance the activities of the Comedy Store Foundation which was set up to uplift the youth through mindset change and skills training.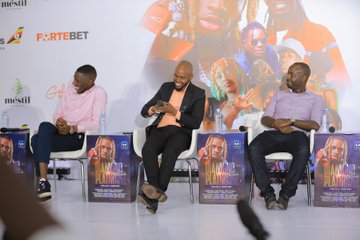 "We're looking at expanding the Comedy Store Foundation activities to the whole of Uganda," said Muhangi.
According to comedian Kalela, the Comedy Store Auditions Program, which runs monthly, is aimed at skilling and grooming the next generation of comedians.
So far, over 300 budding comics have gone through the program including Merry Hearts, Sammy and Shawa, Comental & Pui Pui, Black & White, MC Raj Kabejja etc.
"Comedy store auditions program never stops. We are bringing more comics and artists," he told journalists at UMA.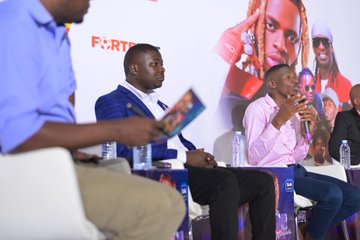 He went on: "We have the every Tuesday before the show. We do auditions and pick one or two with the best content. We reward them with some money from our sponsors. People now love them."
According to Kalela, the lack of funds put the program at a standstill but believes that if people support this concert, they will be able to travel around Uganda to scout talent.
"Universities have many comedians but we need to go ad look for them."
According to Ken Kemba who is in charge of the Youth Training & Mentorship Program, the initiative is aimed at mentoring young students on critical life skills.
He said the first activity was the Makerere University law pre-entry training which imparted knowledge to the first cohort of over 80 students.
"It was very successful," he noted.