The Finance Minister is expected to present the final budget estimates for the financial year 2022/2023 to Parliament by Thursday, 31 March 2022.
While chairing the House on Tuesday, 29 March 2022, Deputy Speaker Thomas Tayebwa quoted Section 13 of the Public Finance Management Act and Rule 148 of the Rules of Procedure, while citing the urgency of timelines for the presentations.
Section 13(3) of the Public Finance Management states that "the Minister shall, on behalf of the President, present the proposed annual budget of a financial year to Parliament, by the 1st of April of the preceding financial year."
Rule 148(2) of Parliament's Rules of Procedure states that "the Speaker shall commit the proposed annual budget to the Budget Committee of Parliament and to a sectoral committee of Parliament, the part of the annual budget that falls within the jurisdiction of that sectoral committee."
"I hope we shall be ready as per these legal provisions because we do not have time to wait. We also expect to receive revenue and tax bills if you have any," said Tayebwa in his maiden communication as Chair of the House.
He also tasked the Finance Minister to table a copy of the gazette of the Charter for Fiscal Responsibility by Thursday, noting that a one-month grace period after approval by Parliament had been overlapped.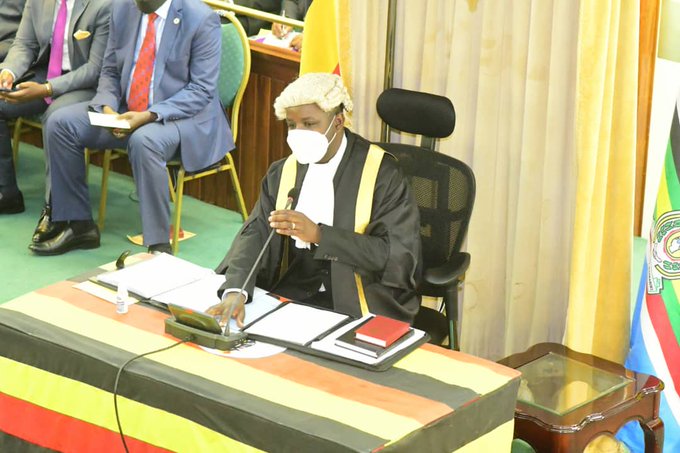 "As per section 5 of the Public Finance Management Act, you should have published this Charter. You published it on your [Finance Ministry] website but you never gazetted it," he said.
He also urged the ministers for Finance to provide guidance to committees of Parliament as they process the ministerial policy statements.
The Deputy Speaker reiterated late Rt Hon. Jacob Oulanyah's commitment for the 11th Parliament to work as a whole, moving on his principle of ubuntu.
"Colleagues, allow me and my sister [Speaker] to thank you for elevating us to this position. It is humbling, we shall try to fit the bill and we shall move as a House," said Tayebwa.
"The moment the presiding officer fails, the LOP has failed, the Leader of Government Business and the whole House has failed; we shall all be judged together. Let's all work towards ensuring we succeed as a team," he added.
This is the first plenary in the Parliament chambers sitting since the demise of former Speaker Jacob Oulanyah.
Following his death, Parliament held a sitting at Kololo Independence Grounds on Friday 25 March 2022, that saw the election of Hon Anita Among and Hon Thomas Tayebwa as Speaker and Deputy Speaker of the 11th Parliament, respectively.