BRUSSELS – Uganda's Deputy Speaker of Parliament, Thomas Tayebwa, has led parliamentarians sitting in Brussels to appeal for Africa to gain more power at the United Nations with a strong demand that the continent receives two permanent seats on the UN Security Council.
Speaking at the 63rd Organization of African, Caribbean, and Pacific States (OACPS) – European Union Joint Parliamentary Assembly underway in Brussels, Belgium, Tayebwa said that it is a shame that Africa which is three times bigger than Europe is not represented at the UN Security Council.
Tayebwa also called for the African Union to be given a more significant voice at the UN's International Peace and Security Organization. He said Uganda and her friendly countries would press for Africa to have a permanent seat on the United Nations Security Council.
"The Security Council has been reduced to settling quarrels between big states and superpowers but when it became to the invasion of Africa, specifically, the invasion of Libya, you did all you could and you made a mess. Now you have seen one of your own, whom you considered an ally in the Security Council what he has done to one of your European countries and you're waking up. Maybe we need more of these examples for you to wake up," Tayebwa said, adding that if the invasion of Ukraine by Russia had been done much earlier, "you would have listened to us much earlier".
Tayebwa explained that Security Council membership where European countries have three out of the five seats since 1947 has no standing in any modern society
Potential reforms could include an increase in the number of permanent and non-permanent members to help better address the complex and evolving challenges to international peace and security.
In addition to the many challenges in Africa that are on the council's agenda, Tayebwa said there are several significant Global South issues in which little progress has been made in recent years, with some facing stalemate including climate change, insecurity, terrorism, and poverty.
At several AU assemblies, Uganda has asked African countries not to accept anything less at the UN Security Council reforms, until the continent is granted at least two permanent seats.
When the UN was formed in 1945, the five countries now permanent members of the UN Security Council had, either strong economies, had emerged victorious after World War II, or had a huge population. The US, UK, China, Russia, and France are the five permanent members.
Zimbabwe's Deputy President of the Senate, General Michael Reuben Nyambuya said Africa should be represented equitably.
"An enlarged council should include at least two permanent seats and five non-permanent seats for Africa," he said adding that the current dispensation isn't democratic and "makes a mockery of the lectures which we get on democracy".
Mr Nyambuya said that the lack of representation of African interests in the UN Security Council is an injustice to help the current dispensation remain as it is.
On his part, Namibia's Chief Whip, Hon. Natangue Ithete, told the OACPS assembly most of the demands for reforms have previously met a dead end, mostly because the Council itself has to endorse any changes to its structure, including approval of vote by all the five permanent members.
"Those with power keep rejecting our call for a permanent representation in the Security Council. We don't know whether we are saying it to the right people or not. It's now about time. The Security Council should listen to us. The charter needs to be changed so that Africa can have a permanent seat on the Security Council. It cannot be business as usual," Mr Ithete said.
He added that if the current UN feels that Africa cannot have a permanent seat at the Security Council, the continent will rally other countries to form a separate but independent UN assembly that will replace the current one.
Adding, "The current one doesn't speak to our democracy. Where is the democracy if you have a continent that isn't represented in the Security Council?"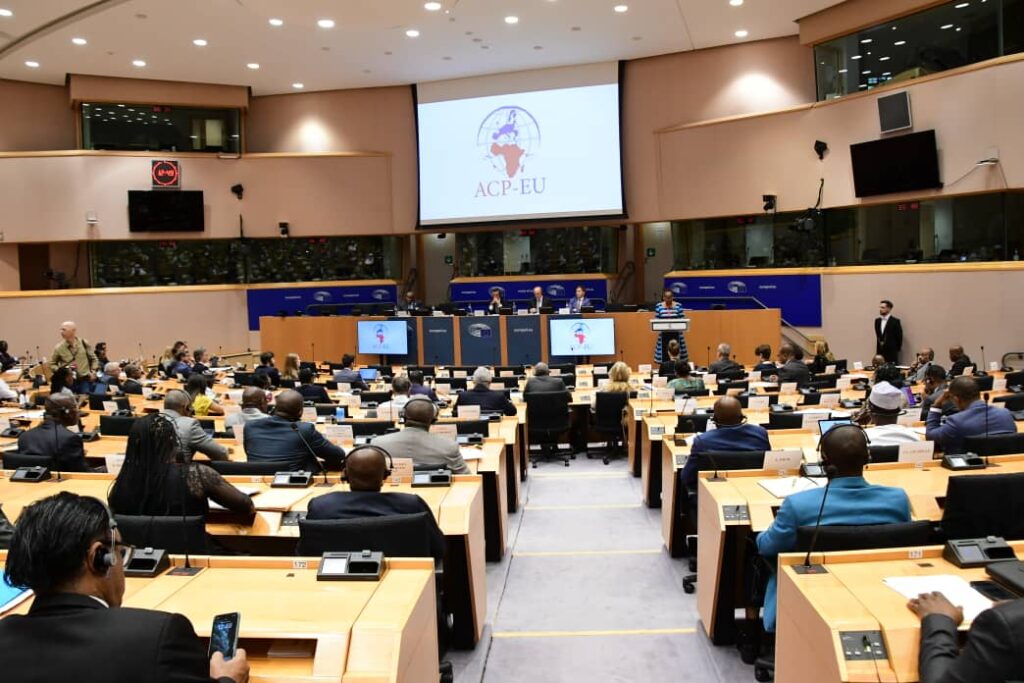 Rt. Hon. Esmond Irving Forde, Deputy Speaker of Trinidad and Tobago and head of the delegation said that any negotiations about UN Security Council reforms must include discussions about permanent seats for the African Union and the Caribbean.
Eritrea's Head of Delegation Rt. Hon. Musa Husein Naib told the OACPS assembly that all countries regardless of size should play an increasingly bigger and more effective role in the endeavour to build a fair, just, equitable, and sustainable globe.