---
The Supreme Court in Kenya has dismissed two election petitions challenging the victory of President-elect Uhuru Kenyatta in last months heated election.
The two petitions had been filed by former assistant Minister Harun Mwau and another by Njonjo Mue and Khelef Khalifa.
On Monday, 6 judges of the Supreme court unanimously upheld Kenyatta as the legitimate President of Kenya, bringing to an end long months of political tension.
Kenya went through a repeat Presidential election after the same court nullified the August 8 election which was found to have been marred by irregularities.
Chief Justice David Maraga in his ruling said the election petitions were not merited.
The decision by court gives a green light to a swearing in ceremony for Kenyatta on November 28 for his second term as President. In his acceptance speech shortly after being declared the winner of the election, Kenyatta had pledged to wait for the court processes which he said he would respect again.
He won the October election with a comfortable 98% after his challenger Raila Odinga pulled out of the race.
In reaction to the ruling by Supreme Court, supporters of Kenyatta's Jubilee party gathered outside the court in the capital Nairobi and rejoiced to the victory.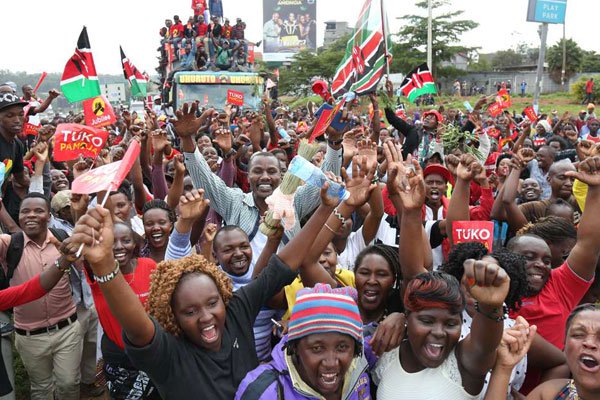 Similar celebrations were witnessed in central Kenya where Kenyatta enjoys majority support particularly on Nairobi, Nakuru and Nyahururu.
Congraturatorly messages towards Uhuru Kenyatta began pouring in from different world leaders. British Foreign Secretary Boris Johnson was among the first to congratulate President-elect Kenyatta.
Meanwhile, some protests broke out in areas like Kisumu and Nyanza with opposition supporters contesting contesting the ruling by court.
Opposition leader Raila Odinga who was Kenyatta's strongest contender in the August election rejected the Monday's decision by court saying; "We in NASA had repeatedly declared before this Supreme Court ruling that we consider this government to be illegitimate and do not recognise it".
Instead, Odinga said the Supreme court was under duress.