Ugandan gold medallist Joshua Cheptegei won the men's 5,000 meters in a world-leading time of 12:57.99 on Friday at the Prefontaine Classic.
The marathoner scooped another gold medal for Uganda in the Men's two-mile race at the Prefontaine Classic Meet of the Diamond League in Eugene, Oregon.
The 5000m winner defeated Selemon Barega (the 10,000m champion) but failed to break the world record.
According to LetsRun.com, Cheptegei had the hardest task of the night trying to break his own 12:35.36 world record he set in 2020. He never was on pace.
The first rabbit Craig Nowak was on pace, but Cheptegei was a bit off the pace but within striking distance of the lights.
But by 2k (5:04.18) there wasn't a lot of room for error, and Cheptegei would slow to 7:41 at 3k and any chance of the record was gone as Cheptegei needed to be running 60 seconds per lap and he was running over 63 seconds.
It was about holding off 12:58 5,000m runner Milkesa Mengesha for the win at this point and Cheptegei summoned a 57-second final lap to get the win in 12:57.99.
No chance
Cheptegei told LetsRun.com that he realized 3 laps in there was no chance for the record.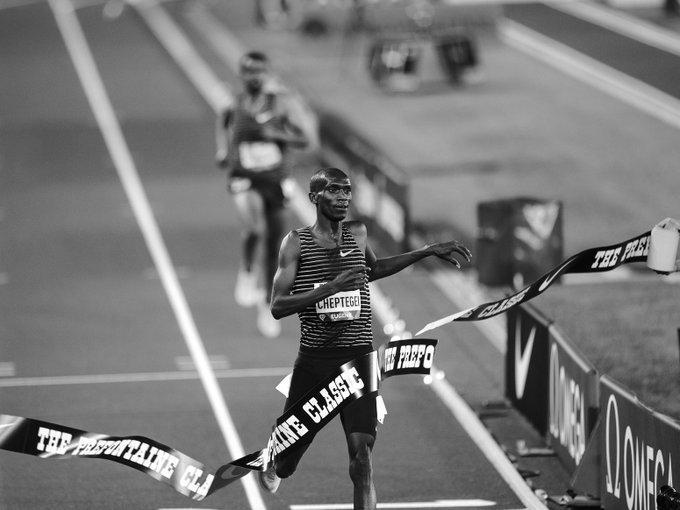 Cheptegei said afterward he felt some wind on the backstretch, a sentiment also expressed by British Olympian Sam Atkin who ran an outdoor pb in 5th in 13:15.31, and realized three laps in it wasn't possible to run fast tonight.
On paper (56 degrees, 2 mph), the weather looked nearly ideal, but the wind may have become a tiny bit of a factor as the temperature dropped.
Sitting in the press tent, we could feel it during the race whereas the flags in the stadium were dead still during the women's 2-mile attempt. DarkSky listed wind gusts of 6 mph out of the NW when the men's 5000 started and the runners are headed north on the backstretch running into the most open end of the stadium.
Cheptegei also said he felt cold and said: "in Monaco, you know you're always going to get good weather whereas here it's unpredictable".
He also wondered if perhaps the track here isn't fast for long-distance races and might be better suited for the 800 or mile.
Asked him if he really felt the WR was a possibility, he said yes. He had compared his splits in practice between now and 2020 and thought they were better.
Credit: LetsRun.com