City Business man, Hajji Omar Mandela, has been sworn in as the new SC Villa president following his unopposed victory in the club's elections.
Speaking at a ceremony held at the Mandela Sports Center, in Industrial area, Mandela pledged to ensure that Villa returns to its glorious and winning ways.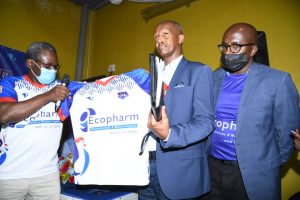 "We are not here to say alot but work. We have alot to do. I want to promise you that I will give my absolute best to make sure that Villa returns to where it belongs," he said.
Mandela's executive is comprised of, Daniel Bakaki as senior vice president, Muhamad Bazirengedde as Vice president in charge of administration, Salim Ssemmanda, vice president technical while former Villa president Immanuel Ben Misagga will serve as vice president mobilisation of fans.
The secretary to the executive is Lt. Col. Kassim Nziraguhunga.
Mandela's election, follows two failed elections that were organised in August but halted hours to the end of the electoral process.
Mandala, had left the club in 2005, following a rift between him and the fans who accused him of backing the breakaway faction from Villa.
He has since silently supported the club, but has never publicly shown support for any of the regimes that came since his ousting.
During his tenure at the club, Mandela. produced so many proud memories for the Jogoo especially between 1997 and 2004, where they won seven consecutive league titles.
For the past three years, the club has been under William Nkemba's interim leadership.
Speaking at the event, Nkemba asked the new leadership to review and harmonise the trust deed and the club statutes, distinction of roles of the club Secretariat, the VMTs (Villa Members Trust), the Executive, the Congress and the Trustees.
He further requested Mandela and his team to set up a comprehensive youth structure which will ensure that the club gets home and also recruit the right players.
SC Villa currently coached by Greek international, Petros Koukouras, will in its next game visit arch rivals Express FC at the FUFA Technical Centre in Njeru on Saturday, November 20.