Burkina Faso's military leader Paul-Henri Damiba has been deposed, the government dissolved and the constitution suspended.
Also, the borders of the West African country are closed. This was announced by army captain Ibrahim Traoré in a televised speech.
Video: #Burkina Faso army captain Ibrahim Traoré announces coup d'état on national television in Ougadougou, ousting junta leader Paul-Henri Damiba who seized power just 8 months ago.#SoftPowerNews #Burkina_Faso pic.twitter.com/xmmCPHtIho

— SoftPower News (@SoftPowerNews) September 30, 2022
New leader Traoré said a group of officers had decided to remove Damiba because of his inability to face violence from radical Islamist groups.
Fighting broke out in the capital Ouagadougou today. Gunshots were heard in residential areas and there was an explosion near the presidential palace. Shots were also fired around the military junta headquarters.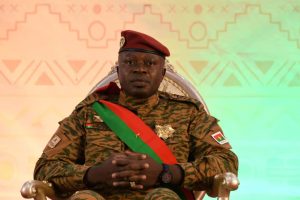 Damiba in power for eight months
Burkina Faso's government said the fighting is the result of an "internal crisis" within the military. Negotiations are said to be underway to reach a settlement, a government spokesperson said.
This coup is the second this year in Burkina Faso. Paul-Henri Sandaogo Damiba had taken power in the country himself in January . His predecessor Roch Kaboré was also accused of doing too little against radical Islamic militias, which often have ties to IS or al-Qaeda