Uganda's Ghetto Kids and Travis George have made it to the Britain's Got Talent final, after competing on Wednesday's live semi-final show.
The two talented acts beat off stiff competition from guitar player Harry Churchill, magician Miki Dark, dance group Notorious, comedian Markus Birdman, yo-yo experts Toy Toy Toy and singer Dylan B.
Ghetto Kids were revealed to have won the semi-final, by receiving the most public votes.
This left Travis to face off against Harry for a place in the final, which would be decided by the judges.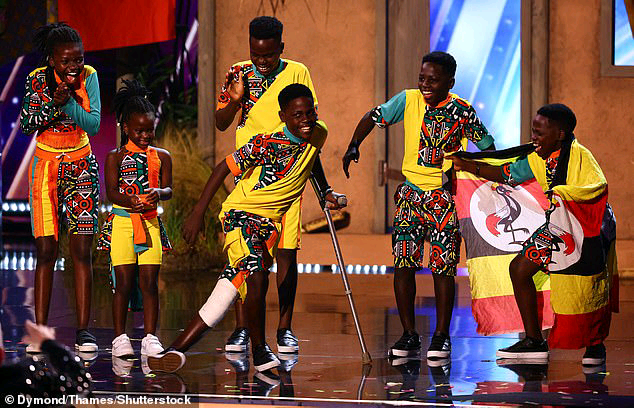 Bruno Tonioli and Alesha Dixon both chose to send Travis through, while Amanda Holden and Simon opted for Harry.
This tie left the decision up to the public vote, with hosts Ant and Dec revealing Travis to be the winner.
The singer fell to the ground with shock and told the audience: 'Thank you for getting me to believe in myself again.'
Ghetto Kids blew the crowd away at the Hammersmith Apollo with their energetic dance routine.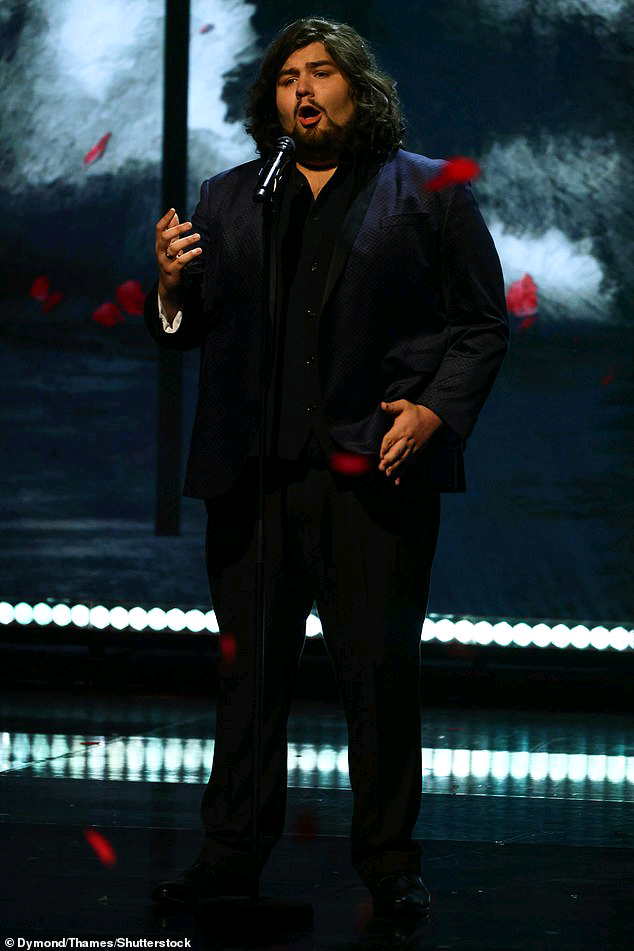 The six kids, aged five to 13, are orphans who live together in Uganda after being rescued from the streets by their 'dad' Daouda Kavuma.
Priscila, 12, Asharif, 12, Akram, 13, Shakib, 12, Madwanah, 13 and Josephine, five, showed off their moves to a medley of upbeat songs.
They impressed despite one of the dancers being unable to dance after contracting malaria.
Bruno called them 'simply irresistible' while Simon praised: 'It was just pure magic. When something's great, it's great. The audience genuinely loves you.'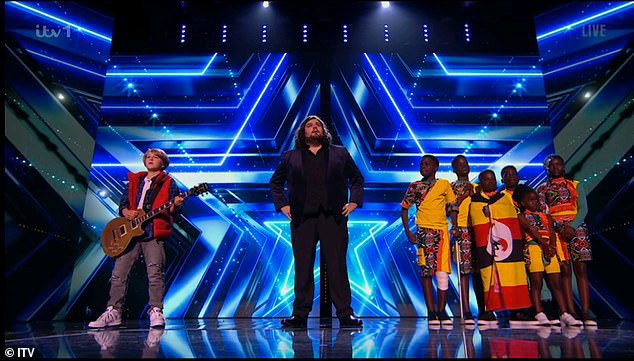 Alesha gushed: 'You are the ones to beat, you light up my heart! I'm so passionate about this act I think you're one of the best things to be on the BGT stage.'
The dance troupe made history in their audition when Bruno became the first judge to hit the golden buzzer before the group had even finished their performance.
Singer Travis delivered a powerful performance on Wednesday, singing Bring Him Home from the musical Les Misérables.
Despite receiving cheers from the audience, Simon critiqued the act saying: 'That was playing it too safe. I thought there was going to be an extra 10-20% at the end. I just wish I'd loved that more'.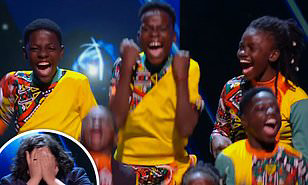 However, the other judges praised Travis, with Bruno saying: 'You did it extremely well – it was beautiful, it was subtle, it was effective'.
After his performance, Travis became emotional and confessed: 'When I entered I was in a really dark time, my confidence was in the bin. I was ready to give all this up.'
He then added: 'But then the audience raised their voices. You gave me life!'
The 22-year-old stunned in his audition, where he performed a rendition of Stars from Les Misérables.
But viewers at home were left shocked when the Welshman failed to get a golden buzzer.
One person wrote: 'Travis should have been given the golden buzzer. Could really tell he was nervous throughout the audition.'
While someone else shared: 'If they give the golden buzzer to a dancing dog over Travis George then I'm going to be absolutely fuming.'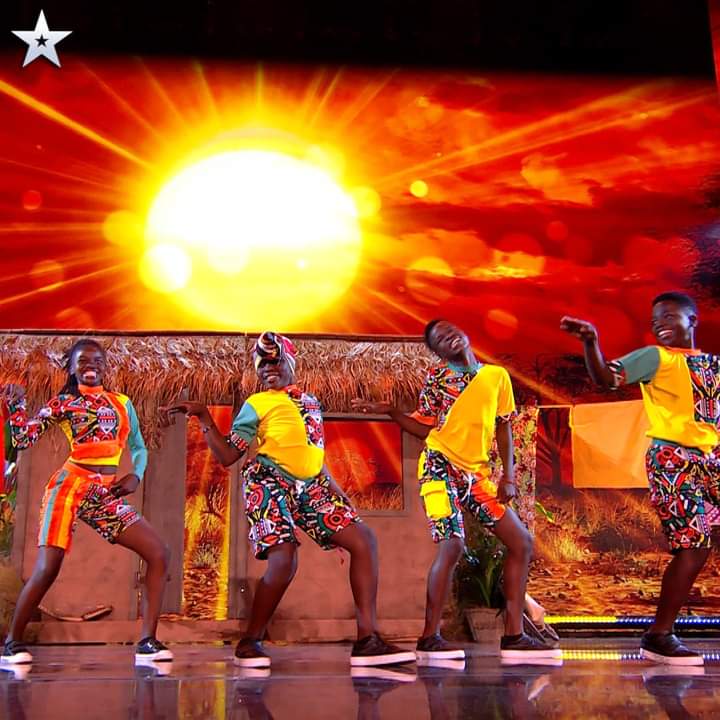 'Travis was the most deserving golden buzzer act and no one gives him one lol, typical,' posted another viewer, while someone else shared: 'Travis's life has just changed. Should have had the golden buzzer.'
Another viewer remarked: 'Travis smashed it. He was probably better than the golden buzzer acts.'
Someone else tweeted: 'You know that #Gogglebox is going to show the #MrBlobby bit from #BGT next week instead of this legend! Travis George who deserved a golden buzzer and was robbed! Amazing voice!!! #BGT and #Gogglebox are both farcical shows!'

By Daily mail