Bank of Uganda has encouraged youths to take advantage of the Agricultural Credit Facility (ACF).
Th ACF was set up by government in 2009 in partnership with Commercial Banks, Uganda Development Bank Ltd (UDBL), Micro Deposit Taking Institutions (MDIs) and Credit Institutions all referred to as Participating Financial Institutions (PFIs).
This was aimed at facilitating the provision of medium and long term financing to projects engaged in Agriculture and Agro processing, focusing mainly on commercialization and value addition.
Rosette Bamwine, the Senior Principal Banking Officer-Head Agricultural Credit Facility Section at Bank of Uganda said this is the suitable funding for youth who are engaged in agriculture.
She stressed that once one has an account in any bank is entitled to access funds if one needs.
She informed that blocker allocation has addressed the collateral security issue, all they need is being engaged in an agricultural project of all kind with a good track record and transparency so they may access the fund.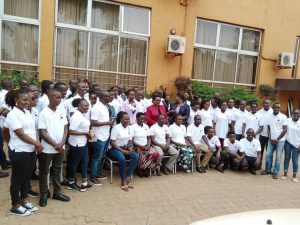 Bamwine made the remarks during a Youth in Agro ecology and Business Learning Track Africa (YALTA) workshop in Kampala.
She informed them that there is the Small Business Recovery Fund (SBRF) that was set up by the government of Uganda to provide loans to small businesses that have been adversely affected by the COVID-19 pandemic and have suffered financial distress and can show potential for recovery if provided with financial support.
Speaking at the workshop, Richard Mugisha, the Uganda Country Manager for YALTA it's much important to empower the youths in agroecology because they're most innovative, creative, vibrant and dynamic in realizing the core goal.
He revealed that the major aim of promoting agroecology is for the world to practice farming by organic ways that doesn't affect the environment as well as production of organic foods that are recommended for our good health.
Meanwhile Josephine Akia the Country Coordinator the Participatory Ecological Land Use Management (PELUM) Uganda stressed that YALTA is part of them and they complement them by giving them required information regarding agro ecology through physical and mentorship.
She said that they help them secure exchange visits with already successful agro ecology practitioners and youth caravans around Uganda for them to see and experience success stories from farmers.