People's Front for Transition (PFT) leader Rtd. Col. Dr. Kizza Besigye has embarked on a new campaign dubbed "Reawakening Ugandans" as he continues to protest against the rising commodity prices.
Besigye was Thursday blocked from driving to the capital Kampala, a day after police withdrew from his home in Kasangati, Wakiso district following a six-day siege.
"Our leader Besigye is back. He returns on the road to wake up Ugandans to fight for Transition and resist NRM regime domination," his Red Card pressure group said.
"Crucially too, he is waking up Ugandans to challenge the high commodity prices."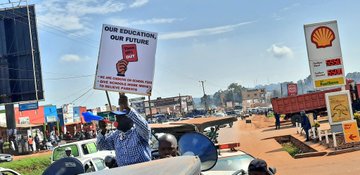 The group decried the massive police deployment in Kasangati town saying "awakening of people shall go on".
"Part of the campaign is to encourage people to be strong and fearless. They are unaware that the high fuel prices we are fighting to be reduced affect them too."
During his Thursday encounter with police, Besigye was seen carrying a placard reading: "Placard Our Education, Our Future. Most ordinary people are choking on school fees."
"Uganda arise. Uganda Wake Up and we liberate the motherland," he proclaimed on loudspeakers that he had placed on his vehicle.
Speaking to the press at his home this morning, Besigye said the drive to wake up Ugandans to confront the national crisis shall intensify.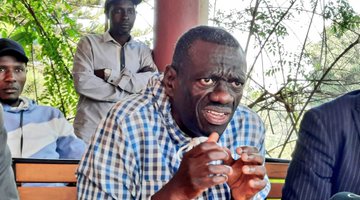 "We shall not relent, we shall only move forward," he told journalists.
While appearing on SEE TV Wednesday night, Besigye said Uganda has a government of more than 80 ministers governing "literally nothing because we are still a highly indebted poor country".
"You cannot have 80 ministers running a highly indebted poor country when America has 15 ministries," he said.
He went on: "Do we as a country benefit from having 80 ministers with heavy vehicles, soldiers guarding them, allowances and billions of shillings spent daily when those who are richer than us and from whom we beg, do not have these in place."
He claimed that change was around the corner "but it will not happen unless we participate in making it happen".