Forum for Democratic Change (FDC) founding father, Dr Kizza Besigye, came close to tears Monday as he revealed "a coup" currently ongoing within the opposition party.
While addressing a press conference at his Katonga Road office in Kampala, Besigye said there is a coup in the party and "it is now moving on decrees".
Besigye became emotional and was seen sniffing and wiping his nose with a white handkerchief as he talked about the "dirty money" that threw the party into disarray recently.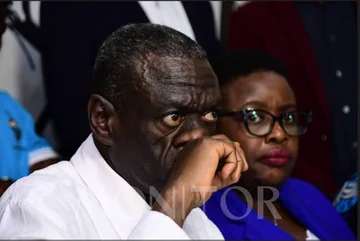 "Hon Nathan Nandala Mafabi told a lie when he said that he had given me Shs300 million for polling agents. He told me the money was his and he wanted to hide it from Uganda Revenue Authority (URA) since he had debts with them, and that they [URA] would confiscate it…," he told journalists.
He accused Mafabi of spreading falsehoods regarding the purpose of the Shs300m which the Party Secretary General claimed was intended for party agents in 2020.
"So, it's a lie that money was extended to me to keep for party agents," he stated.
While responding to the FDC Elders Committee Report on the controversial money from unknown sources, Besigye said the Committee of Elders didn't make the slightest attempt to establish the facts.
"They only recorded what each of us told them. They didn't make an attempt to establish facts. Zero. In spite of my having pleaded with them to do so. In fact, their only written finding is that this was a very sensitive matter," he chuckled as his audience joined in.
According to Besigye, the Elders made no sincere effort to ascertain the origins of the alleged illicit funds.
"In this report, Nandala says he is the one who lent money to the party but they didn't even ask him "how much sir?" Even that was too sensitive," he sneered and followed it with bouts of laughter.
According to him, no one knows how much money FDC received in the last three years and how it was spent.
"So, there are only minutes of the meeting, that is what this report is about. The report is not worth the paper it was printed on."
The veteran opposition figure said the is not interested in party leadership or destabilising it for that matter.
"I don't have any intentions to destabilize the party because I am not seeking leadership in the party, not even in the government but championing liberation."
He said the struggle has cost many people, some have lost lives and others beaten, and arrested, among other things.