With the advancement and reliance on technology in the banking sector, the industry has become victim of computer fraud.
The need to secure deposits and other bank processes from cyber fraud and hacking into servers to obtain customers' personally identifiable information (PII) cannot be overemphasised.
This, the Executive Director Supervision, Bank of Uganda, Tumubweine Twinemanzi , says it's why cyber security in the banking sector is of utmost importance.
He says that as individuals, companies and banks migrate to perform most transactions online, the risk of a data breach increases daily, asking banks to pay close attention to Cyber fraud.
He noted that as Bank of Uganda, in the coming one year or so, more focus will be put on cyber security in the banking sector processes.
According to experts, some of the obvious reason for the importance of cyber security in banking sector transactions is to protect customer assets.
These say as more people go cashless, activities are done through online checkout pages and physical credit scanners. In both situations, PII can be redirected to other locations and used for malicious activities.
In the banking sector, there tends to be More risks from mobile apps — More individuals access their bank accounts on mobile apps. Many of these people tend to have minimal or no security, and this makes the potential of attack much greater. Hence, banking software solutions are required at the endpoint to prevent malicious activity, Among others.
According to data from Bank of Uganda, the value of mobile banking transactions grew by 146.1 per cent from Shs 2.11 trillion in March 2021 to Shs 5.2 trillion in March 2022, this growth was attributed to the convenience of the system which cut out the need to go to banking halls and enabled communities in remote areas to access banking.
In comparison, transactions through debit and credit cards were worth Shs 1.7 trillion.
However, a Criminal Investigations Directorate Report for the year 2020, indicated that a total of Shs 15.9 billion was lost in 2020 through cyber fraud.
The report revealed that this was across different sectors including telecom companies, banks, ministries and individuals, and was the biggest cyber fraud in the country.
Twinemanzi who was speaking at the official unveiling of the Finance Trust bank headquarters, located at TWED Plaza at Lumumba Avenue in Kampala, said as the bank grow, a number of technology based products are introduced for the customers, which comes with the latest potential threats and the risks that come with increasingly relying on technology services.
He noted, "Our focus will be largely on the risks that come with relying on technology to provide services. We have moved from an era where the biggest threat to a bank would have been armed robbers walking in the bank with the gun, now the threat is fingers and phones."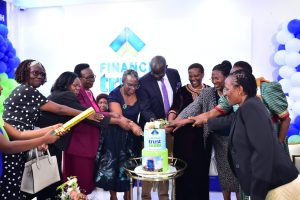 On unveiling the new headquarters, he thanked management for the tremendous growth they have displayed for the last 38 years.
According to Annet Nakawunde the Managing Director, Finance Trust Bank, their main objective is to provide financial services to low income people in Uganda, especially women.
She revealed that Sixty percent (60%) of the bank's customers are women.
The bank currently has a large branch network of 35 branches (including Kalangala) serving over 500,000 customers countrywide.
The bank currently serves over 500,000 savers and 29,000 borrowers. Their core client are in the lower pyramid of the economic strata and inclined to serving women who are emerging rural entrepreneurs and enterprising urbanites as individuals or saving groups.
She noted that their goal is to be the bank of choice while efficiently delivering a range of highly competitive financial services to the customers especially women.
Dr. Evelyn Kigozi Kahiigi, the Finance Trust Bank Board chairperson said the bank has introduced an array of alternate banking channels to enhance its products and service delivery whilst offering its customers greater convenience in banking.
Dr. Kigozi also reported that the bank has since invested in technological advancements such as alternative banking channels to safeguard emerging threats.
"We have implemented systems and controls through sound management practices to safeguard against cyber threats. We will continue to strengthen our resilience in relation to combating cyber threats," Dr. Kigozi said, also announcing that the board, is taking a keen interest in ensuring that the bank complies with the much sought-after Environmental, Social, and Governance (ESG) policies.