The Special Representative of the Chairperson of the African Union Commission (SRCC) for Somalia and Head of the African Union Transition Mission in Somalia (ATMIS), Ambassador Mohammed El-Amine Souef, has met with Lt. Gen. Kayanja Muhanga, UPDF Commander Land Forces.
On the sidelines of a working visit to Somalia on Friday, Souef hosted the delegation of Ugandan army senior officers for a dinner at the Mission Headquarters in Mogadishu.
SRCC commended the role played by the UPDF for their contribution to peace and stability in Somalia.
Present at the dinner hosted by the SRCC were; Ugandan Ambassador to Somalia, Maj. Gen. (Rtd.) Nathan Mugisha, and ATMIS senior leadership team.
According to ATMIS, the discussions focused on renewed ATMIS mandate.
The officers would also visit ATMIS sectors to evaluate the concluded phase one drawdown.
Earlier, Souef and senior Mission officials from civilian, police and military components, met with ambassadors and diplomats from ATMIS Troop-Contributing Countries of Ethiopia, Djibouti, Kenya and Uganda, accredited to Somalia.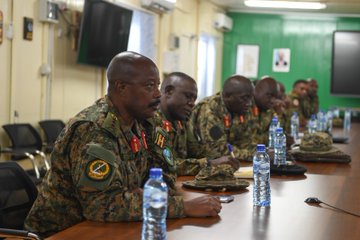 The discussions centred on the progress in implementing the ATMIS mandate and the proposed draft terms of reference for the upcoming Joint Technical Assessment.
The envoys present included the Ethiopian ambassador to Somalia, Mukhtar Mohamed, the Djiboutian Defence Attaché to Somalia, Col. Hassan Yusuf, the Kenyan ambassador to Somalia Maj Gen. (Rtd) Thomas Chepkuto, and Uganda's deputy ambassador to Somalia, Maj. Gen (Rtd) Nathan Mugisha.