The African Union Transition Mission in Somalia (ATMIS) Force Commander, Lt. Gen. Sam Okiding, has hosted Burundi's Deputy Chief of Defence Forces, Lt. Gen. Jean Paul Habimana, at the Mission Headquarters in Mogadishu.
They discussed the concluded phase one drawdown and the efforts made by Burundi troops to restore peace and stability in Somalia.
Lt. Gen. Okiding thanked the Burundi National Defence Force (BNDF) for its commitment to the Somali Transition Plan (STP).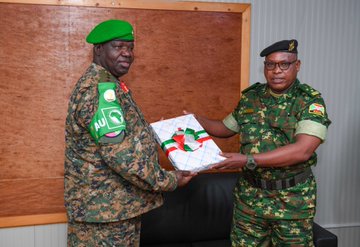 This week, the acting Bulomarer African Union Transition Mission in Somalia (ATMIS) forward operating base commander, Major Don Naijuka, met 31 elders, religious leaders and Kuutnuwarey district local authorities at Alfaaruuk Primary School.
The meeting was aimed at cultivating harmony and highlighting security concerns including the ongoing night curfew, the need for collaborative information sharing and the voluntary return of military stores that are in the hands of civilians and allaying people's fear that UPDF might revenge on the death of their combatants during Al-Shabaab attack on the base on 25th May 2023.
Maj Don Naijuka informed leaders that ATMIS forces' core mandate is to support Somali Security Forces (SSF) to stamp out the Al-Shabaab mayhem against the people of Somalia so that peace and stability can prevail.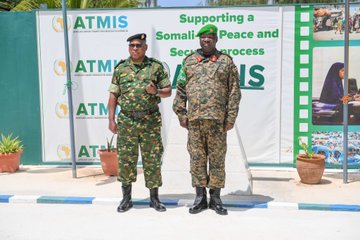 "We stand together with the people of goodwill irrespective of culture or tribe. We should all strive for peace. Our utmost objective is to protect Somalis from Al-Shabaab mayhem," said Maj Naijuka.
The Base commander, called upon the leaders to advise their communities to protect their children from joining terror groups.
He cautioned them that the same children would be used to plant bombs along the roads that can eventually hit one of them as they are travelling.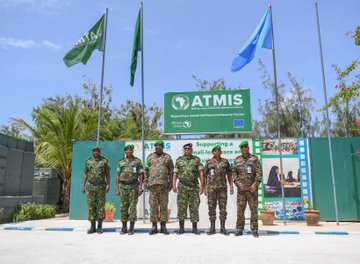 The Somali National Army (SNA) Commanding Officer based in Bulomarer, Col Abdu Salat challenged leaders to heed curfew time.
Relatedly, ATMIS commended the Somali National Army (SNA) soldiers for their bravery in repelling an Al-Shabaab attack on the Albao Forward Operating Base (FOB) and the Elishabiya detachment in South West State.
Albao FOB was handed over to the Somali Security Forces on June 27 as part of the successful phase one of the drawdown.