As the world continues to grapple with the threat that obesity has become, there is increasing talk about the importance of embracing physical activity.
This is also coupled with the dangers presented by Non Communicable Diseases often referred to as NCDs such as heart attacks and stroke, cancers, chronic respiratory diseases and diabetes.
Uganda hasn't been isolated from these threats especially in the wake of the advent of fast foods and oily meals as a preference for many. For urbanites, air pollution, unhealthy diets and low physical inactivity contribute to the push factors while other behaviors like smoking equally have a role as cause of NCDs.
In Uganda, such diseases have become a serious concern to the extent that they account for 40% of the deaths registered.
It is for this reason that in July of this year, President Yoweri Museveni launched the National Day for Physical Activity in Uganda. This was part of government's efforts to raise awareness on NCDs and to get Ugandans to appreciate the importance of physical exercises.
The person behind the idea of this National Day for Physical Activity is Paul Bamutaze, a graduate in orthopaedics who is also CEO of Uganda Health and Fitness Group.
He is passionate about about the wellness and fitness sector, which explains how he got involved in the initiative.
SoftPower News sat down with 31-year-old Bamutaze recently to understand what inspired the idea and his assessment of the wellness and physical activity aspect in Uganda.
He is not a practicing medic. Instead, he is engaged in several diverse ventures some of them at a continental level, including Pan Africanist initiatives. But he still does consultancy work in the medical field.
"I needed to contribute to my country which i couldn't do significantly while practicing full time as a medic. Saving lives is an impact but contributing to a broader society is a bigger impact," he says.
"Working where your passion is the best thing that someone can achieve," he adds.
Inception of the idea
The idea of the physical activity day struck him in 2017 during the maiden Uganda Health and Fitness Expo (another brainchild of his) which he said sought to create a fun side of working out. The expo held at the Uganda Museum was graced by some musicians who role played as instructors, medical screenings, music, aerobics and the like.
While on a trip to Zambia where he was doing consultancy work for the Physical Activity Day, he met with Uganda's Health Minister, Dr Jane Ruth Aceng.
The two chatted about the concept and to his luck,the Minister was impressed and proposed that it is replicated back here in Uganda. Subsequent engagements are what resulted in the launching of the National Physical Activity Day by the President.
"We needed to have a campaign and create awareness in the public. In the well planned countries, their roads are well planned, they have walkways and lanes for cycling. There, someone one can have four cars but still walk or cycle to work," he said.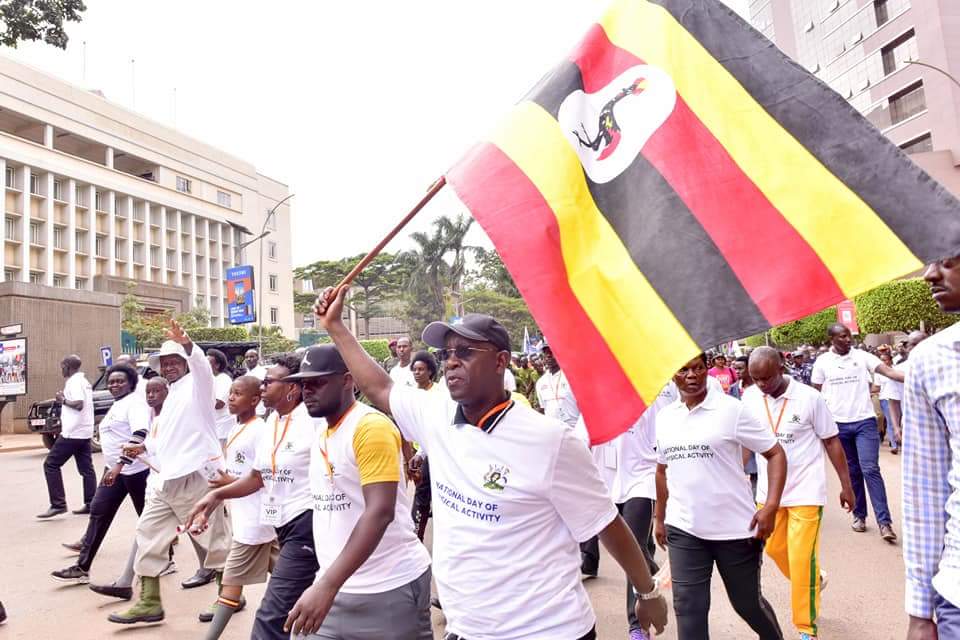 He says that owing to the threat of non communicable diseases, working out has now becoms trendy unlike the past when it was a thing for the obese or the rich.
"NCDs like diabetes, cancer account for 40% of general deaths in Uganda. But 80% of these NCD related deaths are as a result of physical inactivity," Bamutaze says.
He says majority of the people who work spend the entire day sitted, even for the least engaging activities such as using a printer which is stationed in someone's office corner.
Ugandans between the age of 50 to 69 are more physically inactive compared to the younger age groups, according to statistics by the Ministry of Health. The NCD Risk Factor Survey conducted in 2014 rated physical inactivity among adults in the urban population higher (8%).
In as much as Bamutaze prides in his accomplishment – turning an idea of a dedicated day for pushing the agenda of physical wellness into reality, he thinks there is still work to be done.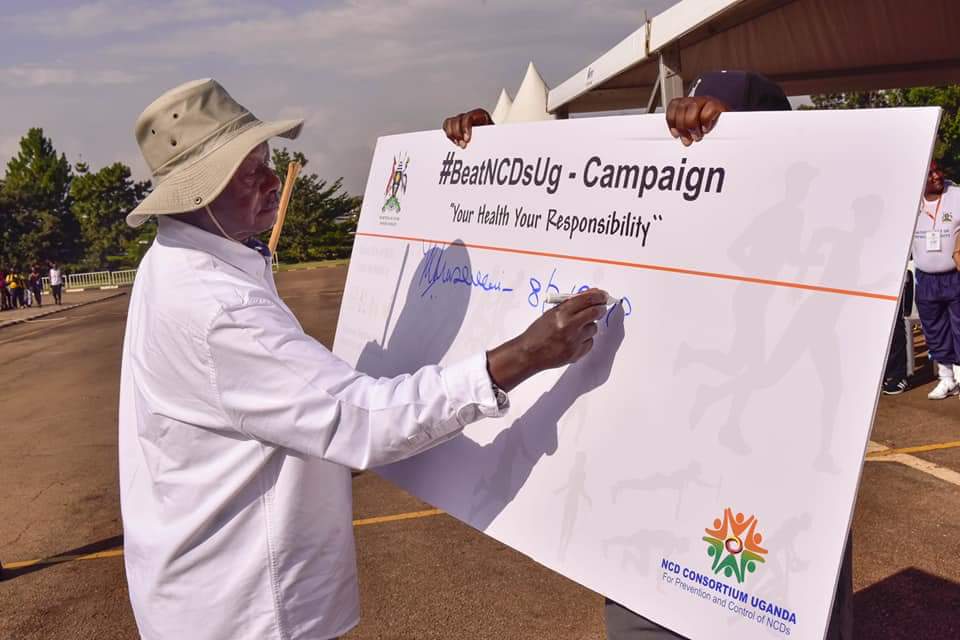 A starting point would be to expand this from being a one off event in the calendar year, to something that occurs monthly or weekly. Secondly, to gazette spaces especially in urban and metropolitan areas like Kampala for individuals seeking to engage in physical exercise.
"One day in the year isn't enough. We are looking to have spaces in town where people can do physical exercises once every month. We are looking at accessing Kololo airstrip where Ugandans can do exercises every last Saturday of the month," he told this website in an interview.
Here, people will have professional wellness instructors, medical screenings while at the same time be entertained.
He is leading a team of about 70 people who are looking to turn around the perception Ugandans have about wellness.
The team which he expects to rise to about 200 by the end of this year comprises of physiotherapy experts, fitness instructors, professional nutritionists, social workers, marketeers among others.
They are in the process of engaging city authorities (KCCA) so as to have a space where wellness activities can be done on a weekly basis. Part of the grand plan also is to create community work out centres, partnering with existing private wellness facilities including gyms to offer wellness services to those that need them.
"We are getting some medical equipment for charity from the U.S. We shall place them in the community workout centres so someone can simply walk in and do exercises".
But it is the wellness card that is perhaps what will be revolutionary in Bamutanze's big dream for wellness in Uganda. He envisages a situation in the near future where an individual will purchase a wellness card that grants them access to subsidized workout sessions at select gyms, as well as consultancy services and professional instructors.
"The card will be given out at a fee – say Shs 100,000 for the entire year. This card will enable you to get professional services from gyms whether you are in Kampala or in Jinja," he said.
He intends to enter partnerships with corporate and government entities to avail them professional instructors who can offer wellness services to their staffers.
The cost of wellness
Most Ugandans will tell you that there is a cost attached to keeping fit and physically active, and that this cost isn't cheap. Others attach wellness to gyms and playing games that involve running.
However, Bamutaze says this perception is misguided.
"You can work out without a gym. You can walk, jog and do exercises at home or at your workplace. All you need is someone who is professional to guide you on how you can achieve your desired goal," he says.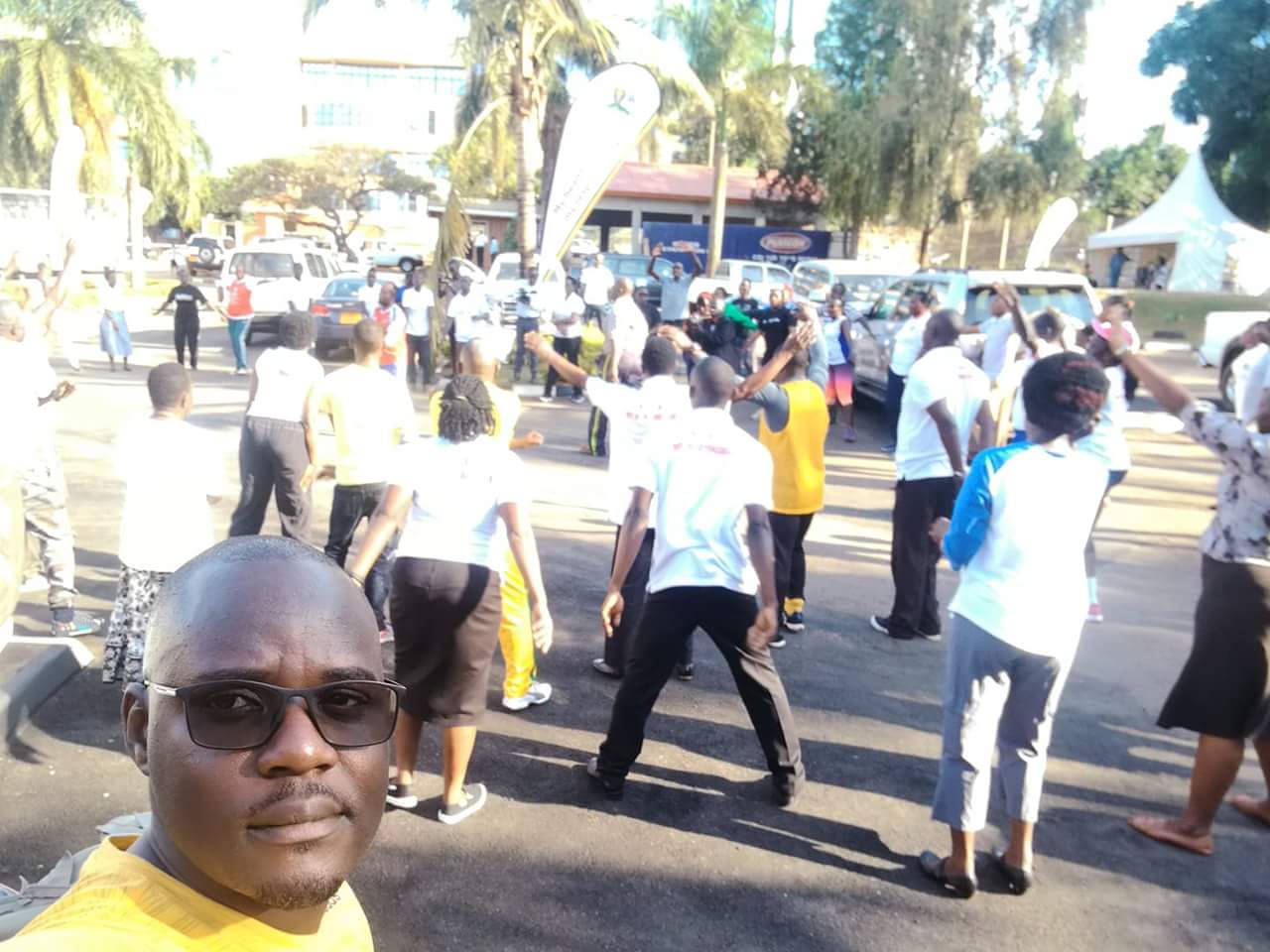 He adds: "You can wake up early in the morning and do jogging, skip a rope about 500 times. It's just about discipline".
At the work place, especially those who do much of their work while seated, he advised that they try as much as possible to sit less.
"Put your printer or coffee machine further from you. Don't roll on your chair to the other corner to photocopy a document. Walk there".
A gym becomes a prerequisite when it is one's preference or when he/she is in an areas that are not safe enough to work out from – say due to the high levels of air pollution.
But for those who are still bent towards using the gym for wellness, he admits the cost is not friendly for the majority of Ugandans.
In high end gyms like those at Kampala Sheraton Hotel, membership costs about US$ 1,000 to US$ 2,500 annually. That's at least Shs 3.7 million.
In the ordinary public gyms in the city, the fee per pass is in the range of Shs 20,000.
On top of the cost, most of the facilities in Uganda are below par, when it comes to professionalism and the approved wellness equipment, he says.
"There are few professional instructors. The gyms lack the standards".
He attributes this to poor regulation of the wellness sector, both on the part of human resource and weeding out outdated equipment.
He emphasizes the issue of professional services and that only service providers who are at par will be brought on board. Short of these standards, a given facility or instructor will be scrapped from the accredited service providers on the card.
"We will have competent people in these centres. We can not compromise on standards whatsoever," he said.
He says they are working with two institutions – one in the U.K and the other in South Africa, that are structuring short training courses for people interested in becoming professional instructors.
In the long term, there will be an institute for such training.
He adds that working out and having a good nutrition goes hand in hand.
Obesity
Obesity is a medical condition in which excess body fat has accumulated to the extent that it may have a negative effect on health.
Mostly, this condition is as a result of excessive food intake, lack of physical activity, and genetic susceptibility.
Is obesity a threat as medics want us to believe, we ask Bamutaze.
"There's nothing good about obesity," he says.
"People that are obese are prone to hypertension, diabetes, they have issues with the way they breathe and leave in discomfort. They are inactive and unproductive. Someone that is obese will not have the same rate of production as someone that isn't".
Obesity also affects one's sexual activity, he adds.
He explains that obesity is as a result of lifestyle. And for most Ugandans, this is the case.
"A few years ago, we thought people with a huge tummy had money. But now people have woken up to a reality that even those with money want to tone down their weight and they are working out intensively".
He notes that it is important for one to be careful with their nutrition – what they are eating. This means consuming a diet that contains all nutrients.
"Most people dont know that the best meal is breakfast. You need energy to drive you in the course of the day. If possible, the food you have at lunch, have it at breakfast," Bamutaze said.
It is everyone's responsibility to keep themselves fit, he says, adding that the other option is dangerous.
"At the end of the day, Your health is your responsibility. When you fall sick at your workplace, you will get admitted and someone will replace you".
Bottlenecks
There are number of issues, some to do with policies, enforcement and urbanization that still make options of individual physical activity difficult.
One of the examples, Bamutaze says is the transport system in urbanized places like Kampala. He notes that the public transport system has not got to a level where city dwellers are motivated to choose the public means such as buses and taxis over their cars.
The same applies to walking in the city.
"This is an issue that needs lobbying. There is need for demarcation of walk ways and cycling lanes. Our streets don't favor those who want to walk," he says.
"We shall lobby government through Cabinet to see that our transport is well structured and that roads are well demarcated".
There is another bigger problem. Whereas everybody seems to be more concerned with the grown ups, there are problems hindering the physical activity of the younger population as well. Many of them are equally feeding badly – on fats and playing less.
In the schools where these children spend majority of the time throughout the year, spaces for physical exercises are increasingly shrinking.
"There is obesity in kids too. There are specific exercises for children. The problem is the wealthy families don't want their kids to play and get dirty," Bamutanze says, adding that "we are adopting a culture where a whole family goes to KFC over the weekend. We have let go of our local food and we are consuming oils, chemicals through drinks, radiations etc".
"We need to self regulate. If you give your kid soda, ensure that they play enough".