On Wednesday, Rwanda President Paul Kagame received American comedian and television host Ellen DeGeneres at at Urugwiro Village, Kigali.
Ellen was accompanied by Portia Lee James DeGeneres, known professionally as Portia de Rossi, an Australian-American actress.
This followed their Tuesday launch of Ellen DeGeneres Campus of the Dian Fossey Gorilla Fund in Kinigi, a center for conservation research in the region.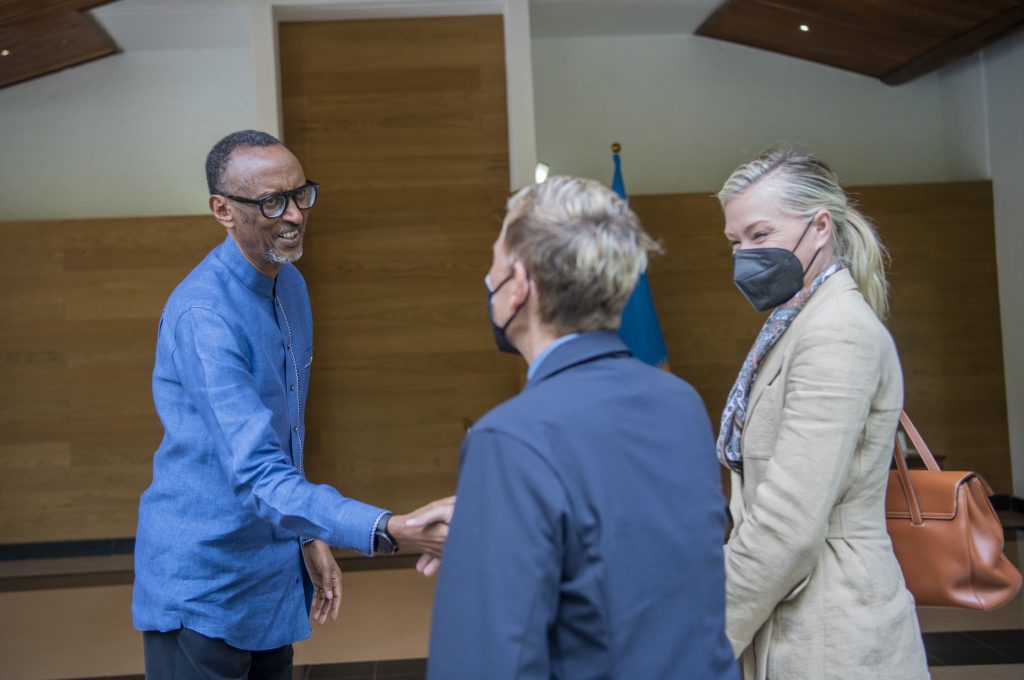 The Dian Fossey Gorilla Fund, with partners The Ellen Fund and MASS Design Group, celebrated the dedication of its new $15 million Ellen DeGeneres Campus of the Dian Fossey Gorilla Fund.
The Ellen Campus, nestled in the foothills of Rwanda's Volcanoes National Park, showcases environmentally conscious design, investments in local livelihoods and scientific capacity building, and support for Rwanda's ecotourism sector.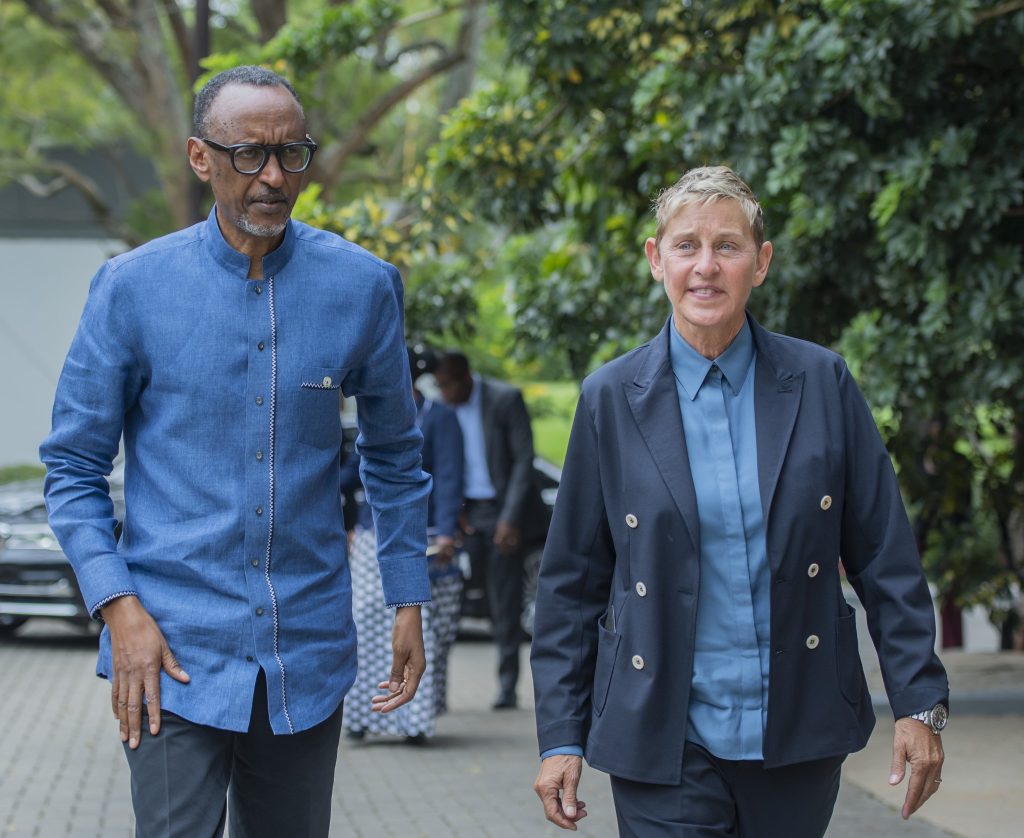 "The Ellen Campus realizes a 20-year dream to create a purpose-built facility to accelerate scientific research and on-the-ground conservation work," said Dr. Tara Stoinski, CEO, president and chief scientist of the Dian Fossey Gorilla Fund. "It is a place for students, researchers, tourists and community members to learn and become inspired to a lifetime of conservation."
On Tuesday, supporters and dignitaries gathered to unveil a plaque and officially dedicate the Ellen Campus. Speakers included global icon and philanthropist Ellen DeGeneres, whose lead gift from The Ellen Fund kick started the project; Dr. Stoinski of the Fossey Fund; Clare Akamanzi, CEO of the Rwanda Development Board; Michael Murphy, founding principal of MASS Design; and Rt. Hon. Edouard Ngirente, Prime Minister of Rwanda.
"The last time I was here I ended my speech by saying 'Well… let's get started.' And I guess you did… this is incredible," DeGeneres said. "When I was a kid, I used to dream of coming here. Dian Fossey was my hero, and her dedication to gorillas changed the world. The Dian Fossey Gorilla Fund has been here for over 50 years. Thanks to their work, the commitment of the Rwandan government and the efforts of many conservation groups here today, the mountain gorilla population has gone from 300 in the entire world to over 1000. This campus is so important for gorillas, but it's also more than that. It's teaching school children about conservation. It's educating a future generation of scientists. It's a model for others to follow, from the sustainable architecture to the community's involvement."
The Ellen Campus features classrooms, laboratories, exhibits, meeting space and student housing in 4,100 m2 of building space over 12 acres. Construction began in 2019 and provided jobs and training for 2,400 local construction workers, nearly a quarter of whom were women. It opened its doors in February, and since that time has hosted more than 5,000 visitors, including almost 2,000 primary and secondary school students and teachers from nearby schools.
The Ellen Campus' eco-friendly design takes inspiration from Dian Fossey's original tent camp at the Karisoke Research Center in Rwanda more than 50 years ago.
It includes three main buildings – the Sandy and Harold Price Research Center, the Cindy Broder Conservation Gallery and the Rob and Melani Walton Education Center – as well as housing for visiting students and researchers.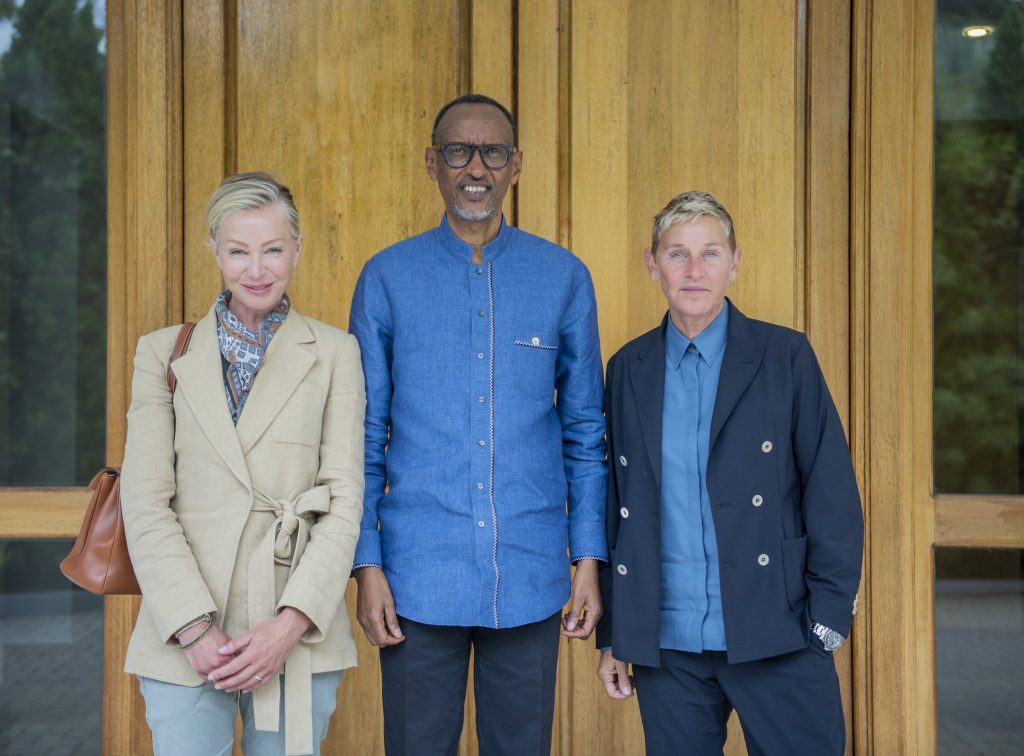 Support from numerous generous donors contributed to the project, including actor and conservationist Leonardo DiCaprio, who supported the creation of a 360-degree theater and computer lab. Formerly an agricultural site, the Ellen Campus features a regenerative, biodiverse landscape of 250,000 plants from 120 different species.
"This campus is not just an investment in architecture but is a testament to the need for new infrastructures and institutions that change the way we operate in the world. This is one of those places," said Michael Murphy, MASS Design Group founding principal and CEO. "Conservation will change because of this campus. Our partners have made the impossible possible."