H.E. Stephen Mubiru, the Ambassador of the Republic of Uganda to the Federal Republic of Germany presented his letter of Credence to H.E Frank- Walter Steinmeier, the President of the Federal Republic of Germany.
The function took place at the Bellevue Palace in Berlin, Germany. It was attended by Officials from the Uganda Embassy in Berlin as well as the German Government.
The Federal Republic of Germany established diplomatic relations with Uganda immediately after Uganda achieved independence on 9th October 1962, although German-Uganda development cooperation begun in 1964.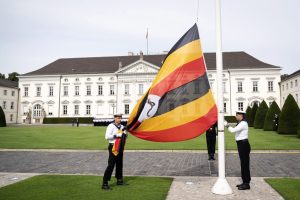 Uganda and Germany, have since enjoyed positive political, social and cultural relations, where bilateral economic relations are regulated by a number of agreements and protocols.
According to the COMTRADE database on international trade, Uganda's exports to Germany was US$93.81 Million in 2020.
Uganda's exports to Germany are mainly in agriculture products. These include coffee, tea, vanilla and pepper which have steadily grown and Uganda imports a number of products from Germany.
These include Pharmaceutical products, electrical machinery, vehicles, textiles and plastics.
Over the years, Uganda has undertaken various reforms which turned the country into one of the fastest growing economies on the African continent.
The country has implemented several sector strategies in agriculture, manufacturing, industry, renewable energy, health, education, infrastructure, tourism & hospitality, food processing and financial services – to mention just a few – that have enabled the w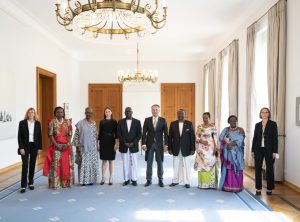 Germany has the largest economy in Europe and the fourth-largest in the world.
Consequently, Uganda's continued engagement with Germany in terms of trade and foreign direct investment will greatly improve the country's Balance of Trade, spur entrepreneurship, innovation and industrialization which will ultimately propel Uganda to middle income status and generally improve the lives of Ugandans.
The Uganda Embassy in Berlin is mandated through its parent Ministry of Foreign Affairs to promote and protect Uganda's interests abroad.
This it does by among others; facilitating promotion of trade and tourism; attracting appropriate transfer of knowledge; facilitating mobilization of resources from abroad for development and facilitating promotion of inter-institutional partnerships and capacity building.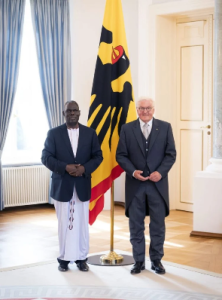 Last year, Uganda Embassy in Germany in collaboration with the Embassy of the Federal Republic of Germany in Uganda and the Ministry of Foreign Affairs of the Republic of Uganda is organized the first time ever – German business trade and tourism delegation visit to Uganda, under the theme: "Transforming Uganda through sustainable business partnerships and technological transfer"
The event presented German businesses with the various trade and investment opportunities in Uganda, forged deeper ties between Uganda and German corporations and sought out opportunities for partnership and technological transfer for transformation of Uganda into a middle income status country.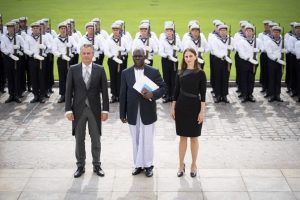 In 2014, The German government pledged to align all its future financial support to Uganda's development priorities in a bid to spur human development across the country.
The pledge was delivered by Christoph Rauh, the head of the division for "Policy Issues of Development Cooperation with Africa" in Germany's ministry of economic cooperation and development.
Under the new strategy, Rauh said, Germany will invest in sectors identified as 'crucial' by the government of Uganda.
Uganda is looking forward to renewing its diplomatic ties, trade and cooperation with Germany, as it celebrates 60 years, since Independence.