Gen. Elly Tumwine has been laid to rest at his ancestral home in Rwemikoma sub-county, Kazo district.
Gen. Tumwine served the country in different capacities including the position of security minister.
He succumbed to lung cancer at Aga Khan Hospital, Nairobi.
The Chief Mourner was Prime Minister, Robinah Nabbanja, who represented President Museveni for the final send-off of Gen Tumwine.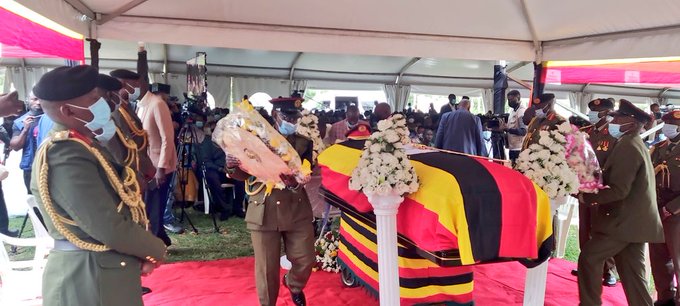 She described the late as a "straightforward mentor of many government officials" who "would never backbite anyone and called an eye an eye".
The Minister of State for Defence, Hon. Oboth Oboth, Minister of Security, Maj. Gen. Jim Muhwezi and Lt. Gen. (rtd) Henry Tumukunde also attended the burial.
"I want to thank the UPDF for their gallant services and commitment. Gen. Elly Tumwine loved the UPDF, and his love for the UPDF made him love Uganda. He was a patriot and a nationalistic man," Hon. Oboth Oboth told mourners.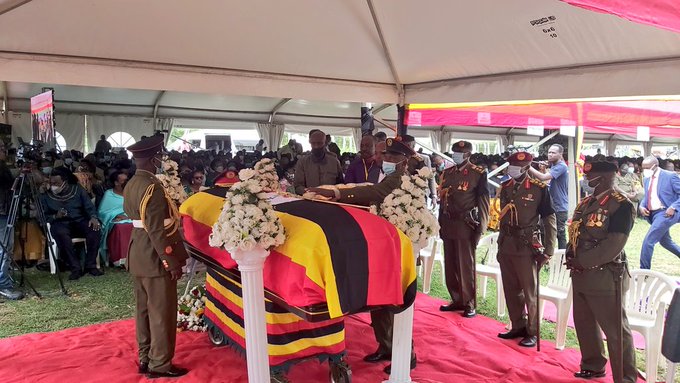 He added: "The peace and stability that Gen. Elly Tumwine with others fought for, which we now have, we need to guard that jealously."
Edna Tumwine, the daughter of Gen. Tumwine, said her daddy talked about forgiveness during his last moments on earth.
"I ask for forgiveness from all those my dad wronged and even those who wronged him, he forgave you. May we choose forgiveness and peace from now on," she appealed.
The NRA Liberation Commander was sent off with a 17-gun salute in line with his military honors.