Stanbic Bank, Uganda's largest bank has Wednesday made a contribution of Shs150,000,000 to Makerere University as it commemorates 100 years of service to Humanity.  
The sponsorship from Stanbic is expected to boost activities lined up by the university as it celebrates its 100-year-anniversary.
The yearlong centennial activities include public lectures, a centenary conference, centenary run among many others.
The University Vice-chancellor, Prof Barnabas Nawangwe, said Makerere is marking an important event in her life, the 1st 100 years of excellent service to humanity.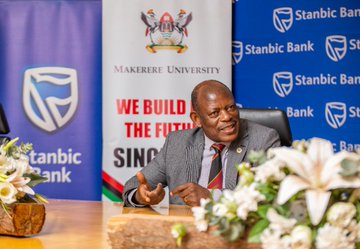 "We have touched lives in every country of the world. We are now looking to the future for continued transformation of the lives of our people," he said during the handover ceremony.
"In Stanbic, we have a good partner, who has supported us over years. As Makerere, we are grateful for the continued partnership. On behalf of the University council, management and staff, we look forward to the next 100 years with Stanbic."
Prof Nawangwe said the world is now digital and without transformation, "we risk being left behind, so education too must evolve".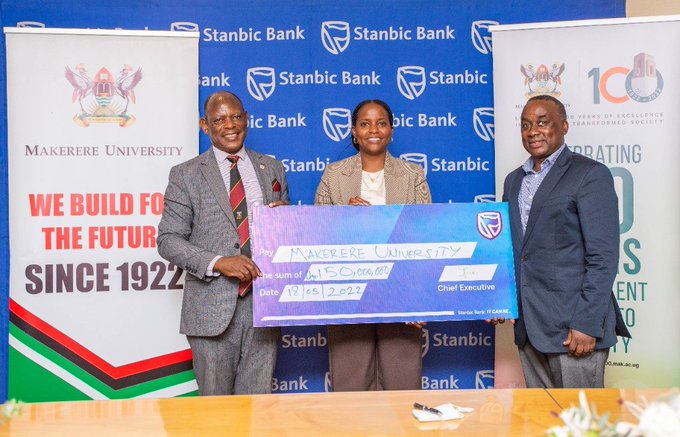 He said the "Ffuna Ka laptop program" not only provides laptops to Makerere students but also helps them evolve in their education.  
"This collaboration between Makerere and Stanbic has taken on a new fire since Ms Anne Juuko took on leadership at Stanbic. So, I personally thank Stanbic for their very generous donation of Shs150 million."
Ms Anne Juuko, the Chief Executive Officer at Stanbic bank, said she was proud of the partnership with Makerere University.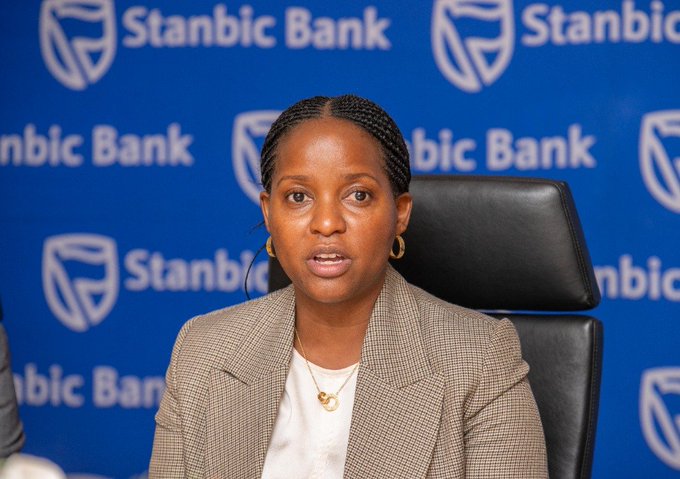 "Makerere occupies a special place in our hearts because it taught us so many things still relevant to date. As a proud alumnus, I will forever be a great ambassador of the institution," she noted.
"We have contributed Shs150m to #MakerereAt100 celebrations and that is not all. We will continue supporting the University in kind. I must reiterate our continued collaboration with Makerere University. As Stanbic, we are committed to growing this partnership."
In partnership with Makerere, Stanbic through the "Ffuna ka laptop program", students can now get laptops for study at a minimum fee of Shs70,000 per month.
"We are committed to the evolution of Education as Makerere celebrates #MakerereAt100."