The joint security forces have arrested a landlord to one of the terror suspects linked to the Komamboga pork joint, and swift bus bombings that left two people dead and others injured.
The landlord identified as Umar Kaggwa, was arrested for harboring the dangerous suspect at his home in Kireka Bbira, being in possession of a bomb, and as to whether he has any connections to the radical ADF linked groups, in the country.
Police spokesperson CP Fred Enanga noted that the Kaggwa's arrest followed a raid carried out by a joint counter-terror tactical teams on November, 4 at around 11.30pm, at his (Kaggwa) home where he was harboring the terror suspect, identified as Muwonge Yusuf, a 28 year old, male adult.
The home is located in Kireka Bbira Village, Nakaboga Parish, and in Wakiso district.
Enanga noted that the dangerous terrorist, Muwonge, escaped moments before the raid on his hideout.
He however noted that, Muwonge, abandoned an assembled improvised electronic device, which appeared ready for planting.
"Our bomb experts managed to disrupt the explosive device and rendered it safe. The device was established to have; an electronic detonator, main charges, ball bearings, nails, batteries, black insulation tapes and a switch," Enanga noted.
Enanga explained that the hallmarks were similar to the detonated improvised electronic devices, in Ttula Kawempe, Komamboga and on the Swift safaris bus.
He revealed that police has launched a serious manhunt for Muwonge who is suspected to have been operating in the same domestic terror cell with Isaac Matovu alias Muzafaru.
Matovu, is the suicide bomber who died in the Swift bus explosion that happened at Lungala Mpingi district.
Police warned that Muwonge is in a hyper mood, and has shifted from Lweeza, where he was staying with Matovu, later moved to Wamala Katooke, Nansana and his last hideout in Kireka –Biira.
"We want to warn anyone who will be found harboring or aiding Muwonge Yusuf, that they will face serious consequences for doing so," Enanga said.
The police mouth piece revealed that the operations to counter all forms of terror are ongoing, and have so far led to several arrests and recovery of dangerous weapons.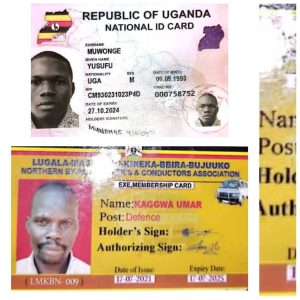 Earlier today, police revealed that one of the terror suspect was taken out of action after he jumped off a patrol vehicle and tried to escape, while being escorted to SID Kireka.
The suspect was identified as, Matovu Adam alias Manihajji aged 36, and resident of Ttula zone, Kawempe 1 ward, Kawempe Division.
"The Joint Security forces found themselves in a volatile situation, after a terror suspect, jumped off a patrol vehicle and tried to escape, while being escorted to SID Kireka. The officers responded immediately and fired warning shots while commanding him to stop but all in vain, which prompted them to shoot and main. Unfortunately, the suspect succumbed to the bullet wounds at the scene around Naguru remand home," Enanga said.
Enanga assured Ugandans and visitors in the country that they (security forces) are doing everything to ensure peace, security and safety